What is MoxiEngage?
The MoxiEngage CRM is centered around the sphere selling methodology because an agent's sphere is what makes your business world go round. It leverages property data, encourages long-term lead nurturing, drives repeat and referral business, and keeps you on track to reach your sales goals. 
MoxiEngage is integrated with your email meaning your entire sphere is in one place, where you already communicate with your people! No need to maintain multiple databases to stay in  flow!
Included on this page:
What you need before you begin
Moving People Through the Sales Flow
Learn more about Getting Started with MoxiEngage
What you need before you begin
MoxiEngage connects directly with your email in order to send messages on your behalf, connect you with your people, and allow you to add transaction tasks to your calendar to keep you on track to reach your goals. At this time MoxiWorks integrates with Enterprise level O365 Microsoft Exchange email, Google Workspace for Business, and Free Gmail.  You can connect to MoxiEngage with your brokerage-provided email and in some cases, depending on your brokerage set-up, you may have the option to choose free Gmail instead. 
If your contacts are in multiple locations outside of your email, be sure to gather them together so you can stay top of mind with your entire sphere.
Signing in and Setting Up
The first time you access MoxiEngage you'll be asked to connect your email.  Depending on the email selection available, you'll be able to select either your brokerage O365 or Google Workspace email, or Free Gmail. 
Option 1: Select your brokerage email, then confirm.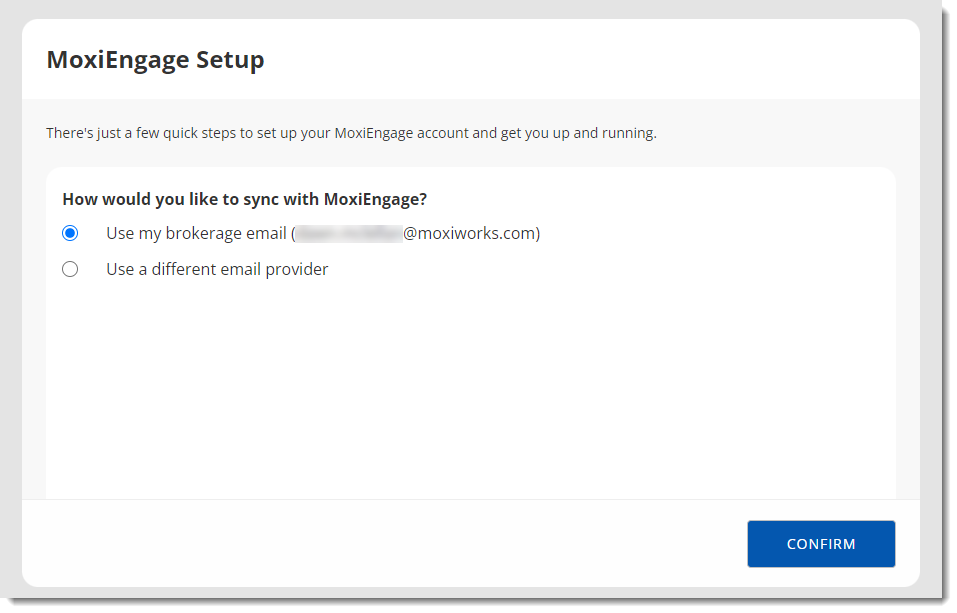 Option 2: Select Use a different email provider and then choose your email provider from the drop-down menu.  You will need to sign into your email provider and approve MoxiWorks to access your email, contacts, and calendar. Then select Confirm.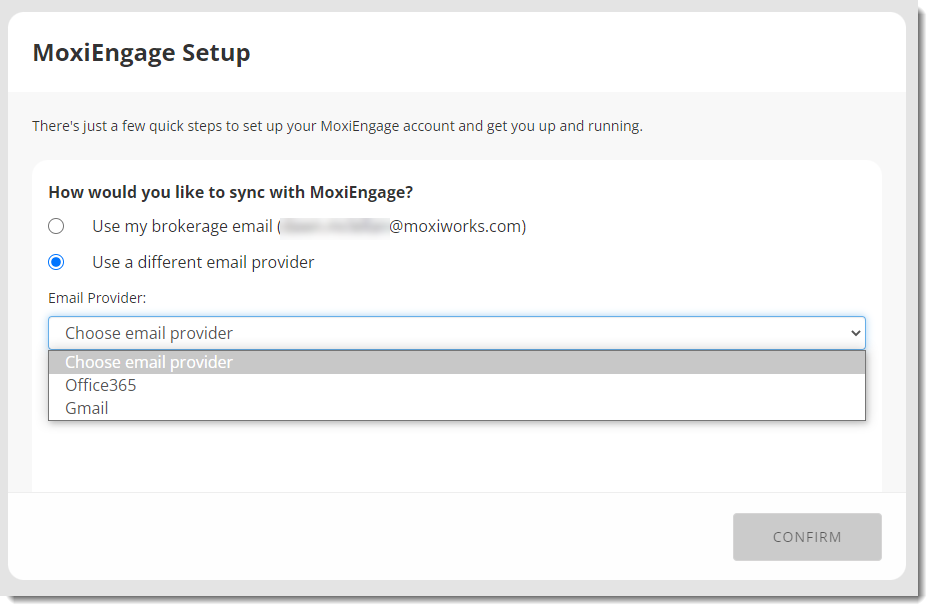 Once your email has completed syncing, you will be asked to create a goal.  Setting a goal drives your performance just as much as the right tools! Enter your Gross Commission Income Goal into MoxiEngage, and let the system help you take the daily steps needed to make your goal a reality!
Enter your GCI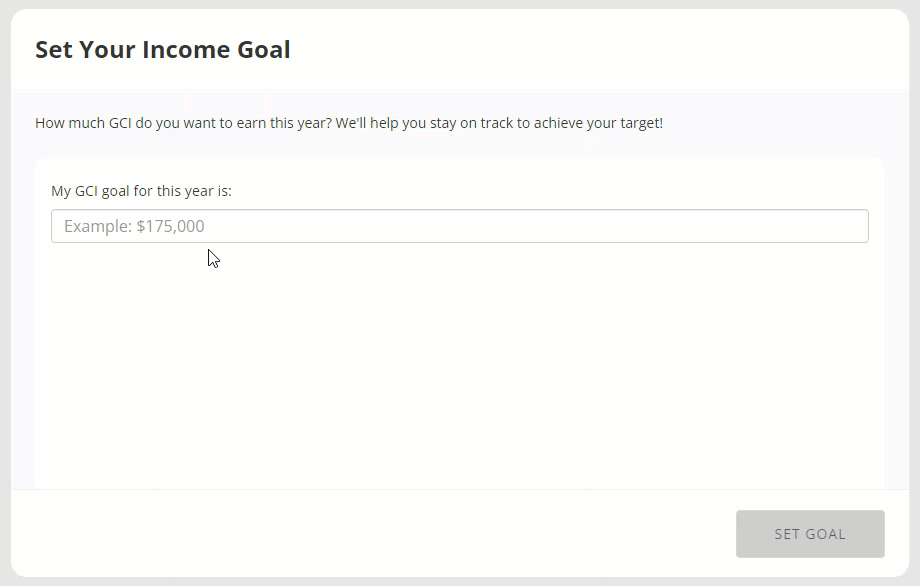 Tip: You can update this amount at any time from the Goals screen
Stay in Flow with your People
MoxiEngage methodology encourages you to stay top of mind with your sphere by communicating regularly.  The Stay in Flow module at the top of your Agent Dashboard will display 5 contacts each day for you to reach out to. These contacts will be displayed based on how recently they have been contacted by you in the past.
To reach out to a client, use the Reach Out drop-down menu and select how you want to connect from the options available.  Only those options included on your contacts profile (phone, mailing address, email) will be in the drop-down menu.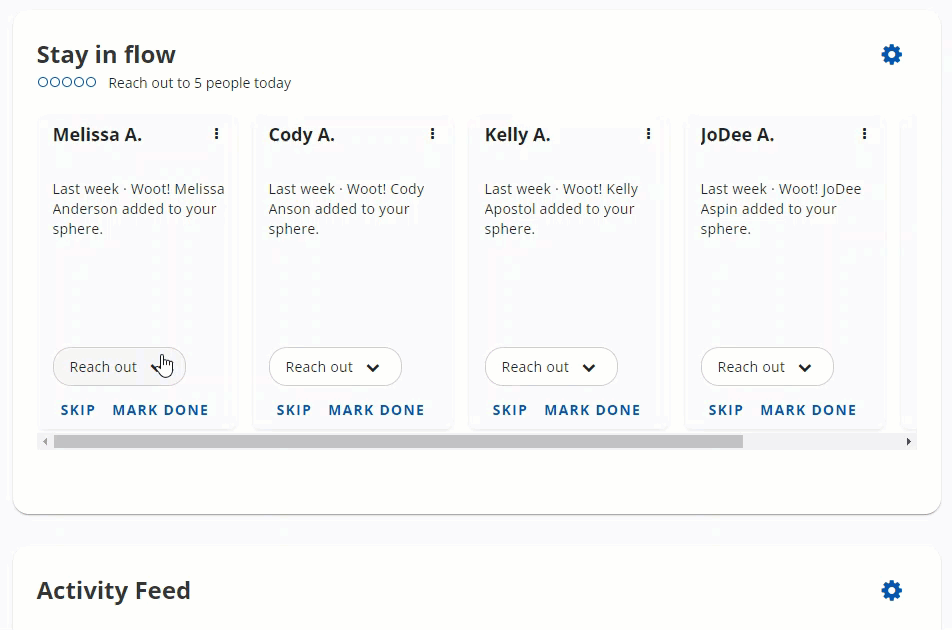 You can also set how often you want to connect with your people and which people you want to see in this module.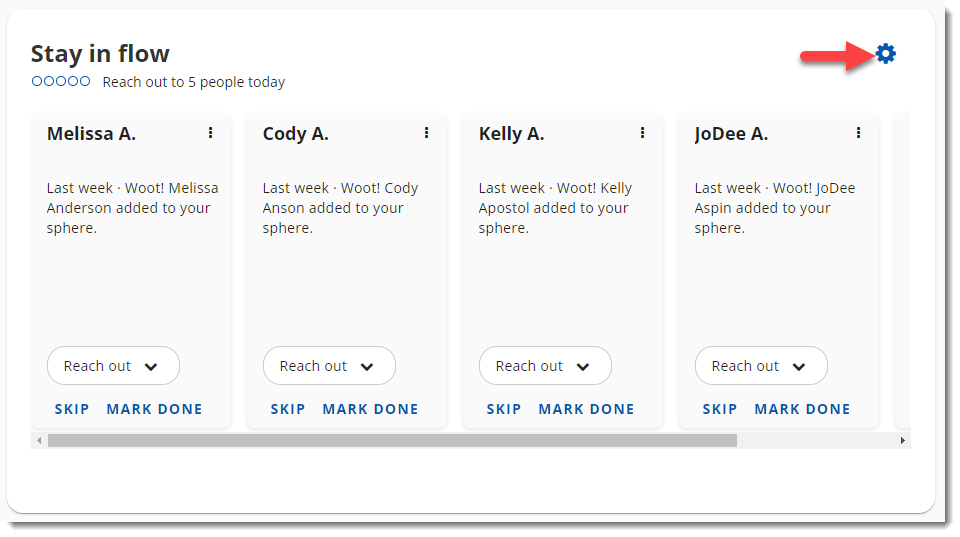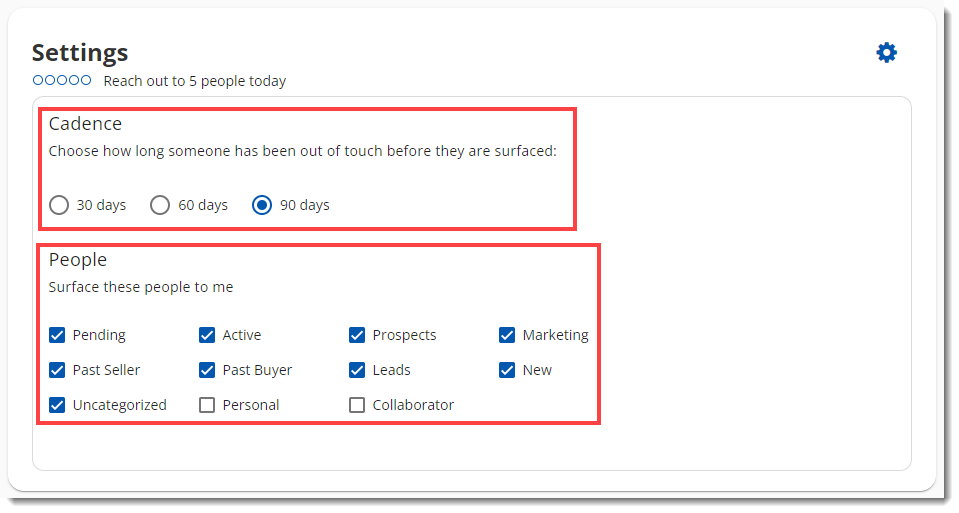 Touchpoints
MoxiEngage includes additional touchpoints to subscribe your contacts to which allows you to easily stay top of mind.  These touchpoints can be set up as automated set-and-forget monthly email subscriptions, regular cadence email campaigns, or just-in-time connections on special days or regarding your listings.
Neighborhood News
Neighborhood News is the monthly market email drip campaign you can set and forget.  Set up the subscription for all of your contacts, just a few people, or selected groups of people.  Neighborhood News provides housing market statistics and information by zip code or location – all branded with your contact information and a call to action to reach out to you for more targeted conversations. 
Here is an overview of what is included!
Select a contact and then select the Add button under Subscriptions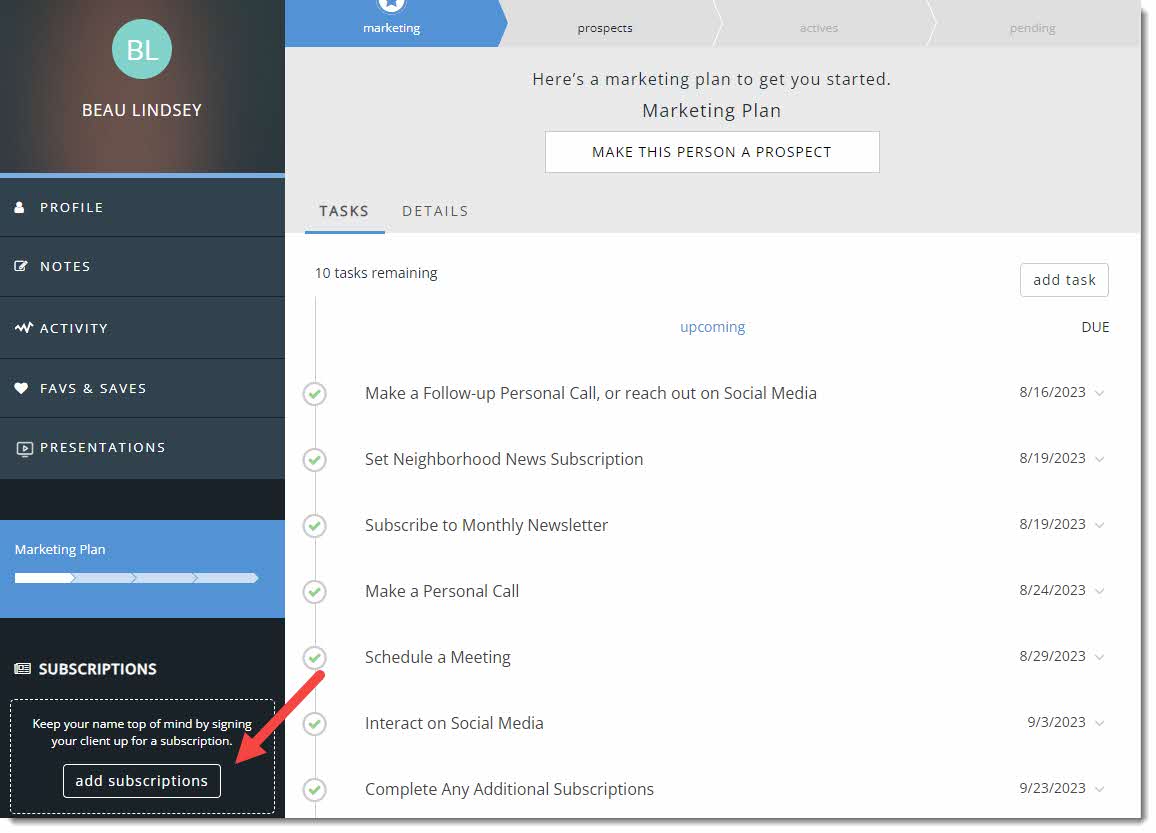 Choose Add Subscription on the Neighborhood News tile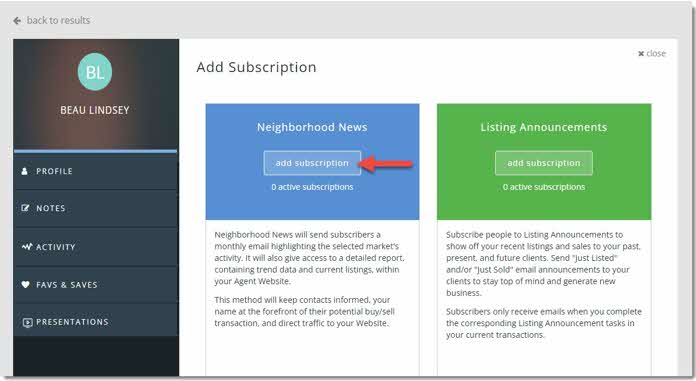 Select either Quick or Custom to set up the subscription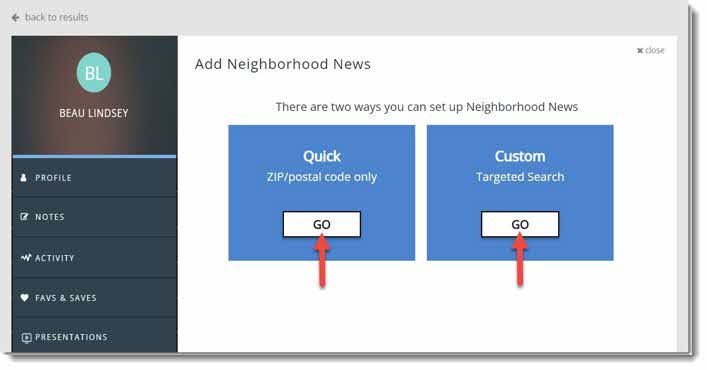 Quick:

 

Use a single zip code to designate the market area for Neighborhood News and start your monthly touchpoint
Custom:

 

Create a more meaningful experience for your contacts with a report that includes multiple zip code areas, focus on a smaller neighborhood, or highlight specific property types to display first in the report
Learn more here about subscribing multiple people to Neighborhood News at the same time.
Campaigns
With MoxiEngage, you have access to a full email marketing campaign builder that is bulk email compliant allowing you the opportunity to connect with your sphere for a short sequence of emails, a date-specific campaign like holidays, or an e-blast-style campaign for a single announcement.  MoxiEngage Campaigns include a library of pre-made templates, branded to your brokerage, letting you save time and providing your customer with a personalized message from you!
Start your first campaign by selecting Campaigns from the navigation at the top of the screen

Select Add From Library

Choose your campaign from the list by selecting Add to Campaigns


Set up your campaign by selecting who should receive it and then send it by selecting the campaign from your My Campaigns screen


Select Setup


Select Add Recipients


Choose who should receive this campaign by selecting the checkboxes next to the individual person or select the Group tab and choose which group should receive the campaign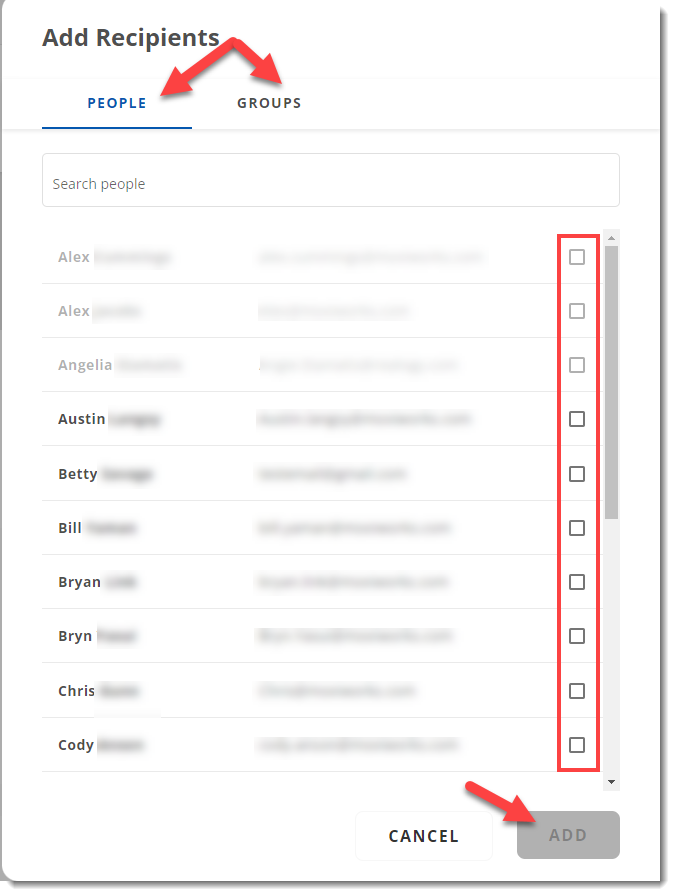 Then select Add
Then select Save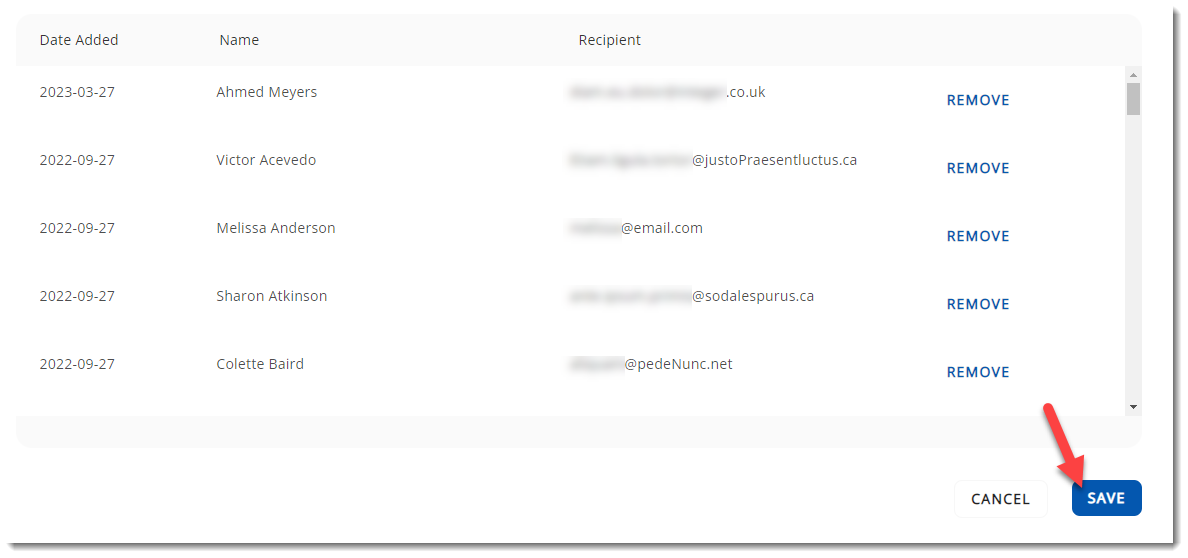 Run Campaign to make sure your people start receiving the emails


Special Dates
Stay top of mind with your sphere by connecting with them on their special days. Whether it's a birthday, anniversary, or their house-iversary (which is a date an agent shares with their client!).  By including these special days on your contact profiles and then adding them to your calendar, you be able to remember your people on their special days and set yourself apart!
Special Dates Settings
Select the gear icon in the upper right corner of any screen in MoxiEngage and then select Engage Settings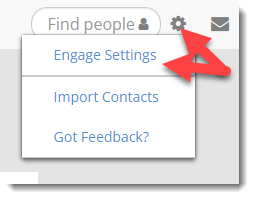 Then select Special Dates and Edit next to any of Birthday, Anniversary, or House-iversary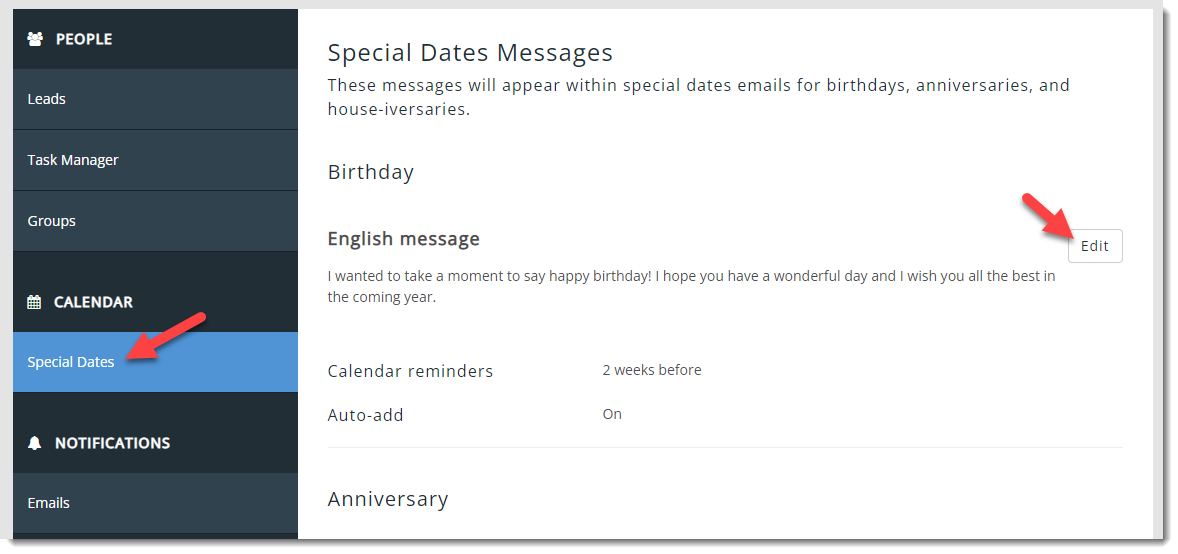 Review and update the Default Message as needed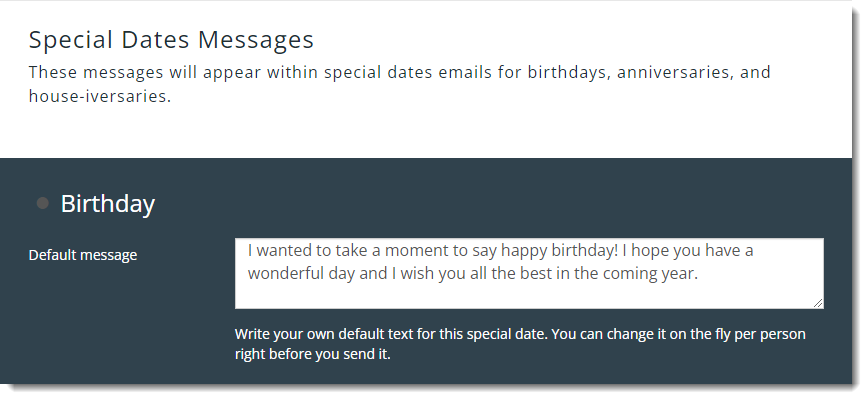 Turn on Calendar Reminders and then select your timeframe from the drop-down menu (1 day - 2 weeks)


Select Auto-add to have any special date in your contact profiles automatically added to your calendar so you can be reminded about them


Learn more here about adding dates to your contact profile and sending an email or gift on their special day.
Moving People Through the Sales Flow
The Sales Flow is an all-in-one view of all transactions you are working on at any given time.  Each Sales Flow zone is a milestone for an individual client's progress toward a successful transaction. Each zone includes a task list to help you stay on top of the transaction and keep a steady pipeline for your business. These task lists can be customized by adding or removing any task while you're moving through the transaction.  They can also be updated for all future transactions within Engage Settings. 
The zones reflect how you work as an agent and are not tied to a listing on the MLS and the tasks will be specific to that segment of the lifecycle of a transaction.  Marketing will be where most of your contacts will be placed. Tasks include connecting for coffee, subscribing to a touchpoint, or posting to their social media. The Prospects zone is for those people that have raised their hand and indicated an interest in buying or selling.  The Actives zone is for those transactions you are actively working on (staging, finding the photographer, going on buyer tours, listing the property on the MLS, etc...). And the Pending zone is for transactions that have a mutually agreed upon buyer/seller contract and a known close date.
Add a person to the Sales Flow by selecting Add Transaction from any profile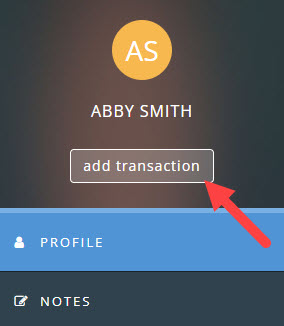 Enter as much information as you have including if your person is a Buyer or Seller,



what area or property, property details, and target price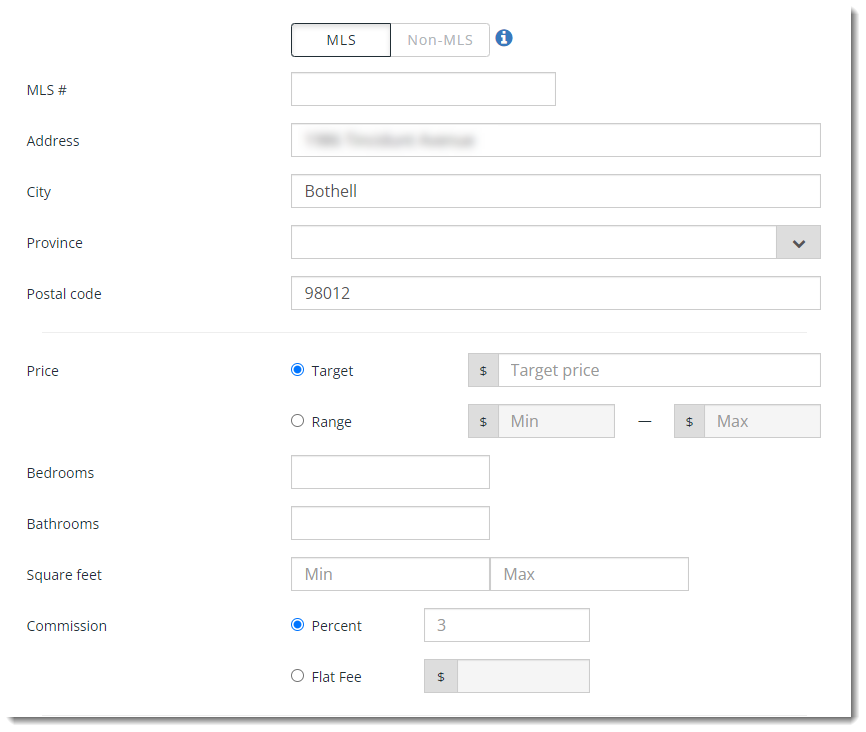 Then select Done



TIP: Locate the contacts in your sphere where you are at the end of a transaction and move them into the Pending Zone of the Sales Flow. Then locate those people in your sphere with who you are actively working and move them into the Active Zone. These groups of people will be a smaller percentage of your total contact list and help you jump into using the Sales Flow.
Set up Your Preferences
Engage Preferences and settings will let you set up MoxiEngage to work for you the way you need.  You can decide how you want to respond to Leads, connect your Zillow account to MoxiEngage, and even chose how you wish to be notified about subscriptions.  
Select the gear icon in the upper right corner of any screen in MoxiEngage and then select Engage Settings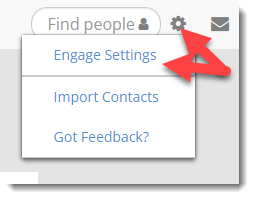 Leads allow you to set a default automated message for any new contact added to MoxiEngage from a MoxiWebsite or Neighborhood News subscription.
Task Manager is where you can set your task lists for each of the Sales Flow zones.
Verify and sync your Groups if connecting with Outlook and not seeing all of your groups displaying on the My People screen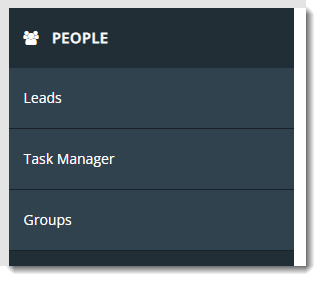 Set up your default message and auto-add settings for birthdays, anniversaries, and house-iversaries on the Special Dates section
Turn on/off email notifications for Neighborhood News unsubscribes and weekly report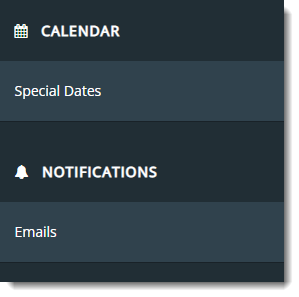 Set up your default messages for each of your subscription options for Neighborhood News, Listing Announcements, and Saved Search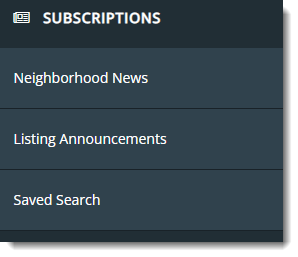 Learn more here about MoxiEngage preferences.
Organizing Your People
Making sure your people are organized into the right groups and categories around MoxiEngage helps you communicate and send the right touchpoints to them.  You can let MoxiEngage know if someone on your list is a personal contact, someone you work with, or someone you want to add to your Sales Flow.  You can organize people quickly by using the Categorize Wizard.
From the My People screen, select Categorize Wizard

Six contacts from your list that have previously not been categorized will display letting you identify if they are a client or not.  All contacts in your sphere have the potential to be a client, so whether you are working with them now, have worked with them in the past, or hope to work with them in the future, select Client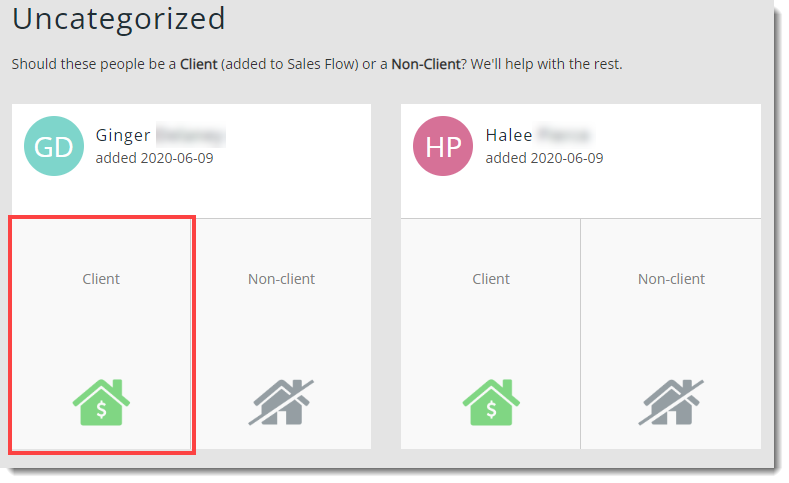 If they are a current client, select if they are a Make Buyer Prospect or Make Seller Prospect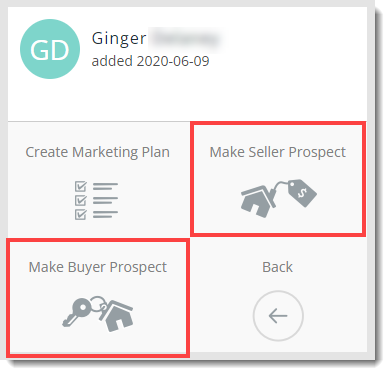 If not a current client, select Create Marketing Plan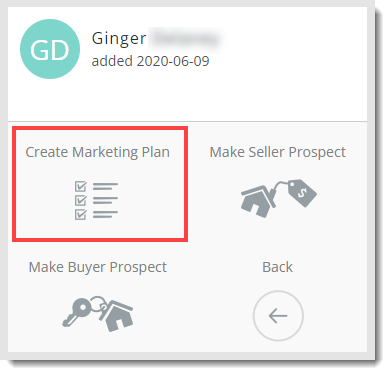 If Create Marketing Plan was selected you will be asked if your person was a previous client.  Select if they were a Past seller, Past buyer, a Past buyer & seller, or None of these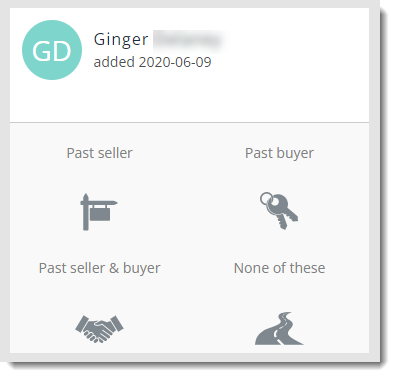 Non-Client
You may have contacts in your sphere that are personal, a co-worker, other agents, or vender and do not need to be placed into your Sales Flow. In this case, select Non-client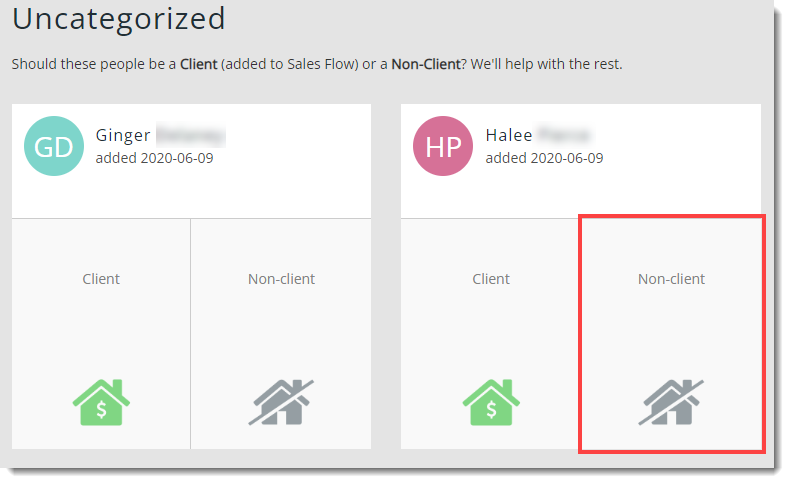 If the contact is a family member or friend, select Personal
If the contact is a co-worker, another agent, or vendor, select Collaborator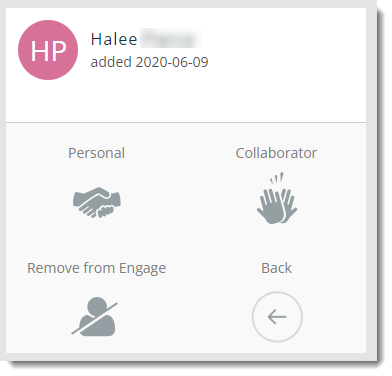 TIP: Personal and Collaborator contacts will be able to receive subscriptions and campaigns but will not be added to your transaction workflow in the Sales Flow zones.
If the contact is someone who does not need to receive any subscriptions or campaigns or be part of the Sales Flow, select Remove from Engage

TIP: MoxiWorks does not delete your contacts. Removing from Engage will hide the contact from MoxiEngage however, you will still see the contact profile in your email contact list.