MoxiEngage is a productivity system for agents and brokers. Organized around the people in an agent's sphere, it provides the tools and insight necessary to manage the entire customer lifecycle, from marketing through transactions. It guides agents and brokers to do the right tasks at the right times, leading to greater productivity and revenue. Your agent dashboard is your hub to keep you on track and in flow with your entire sphere.
1. SUB-NAVIGATION BAR: This allows you to navigate to any screen within Moxi Engage (see below).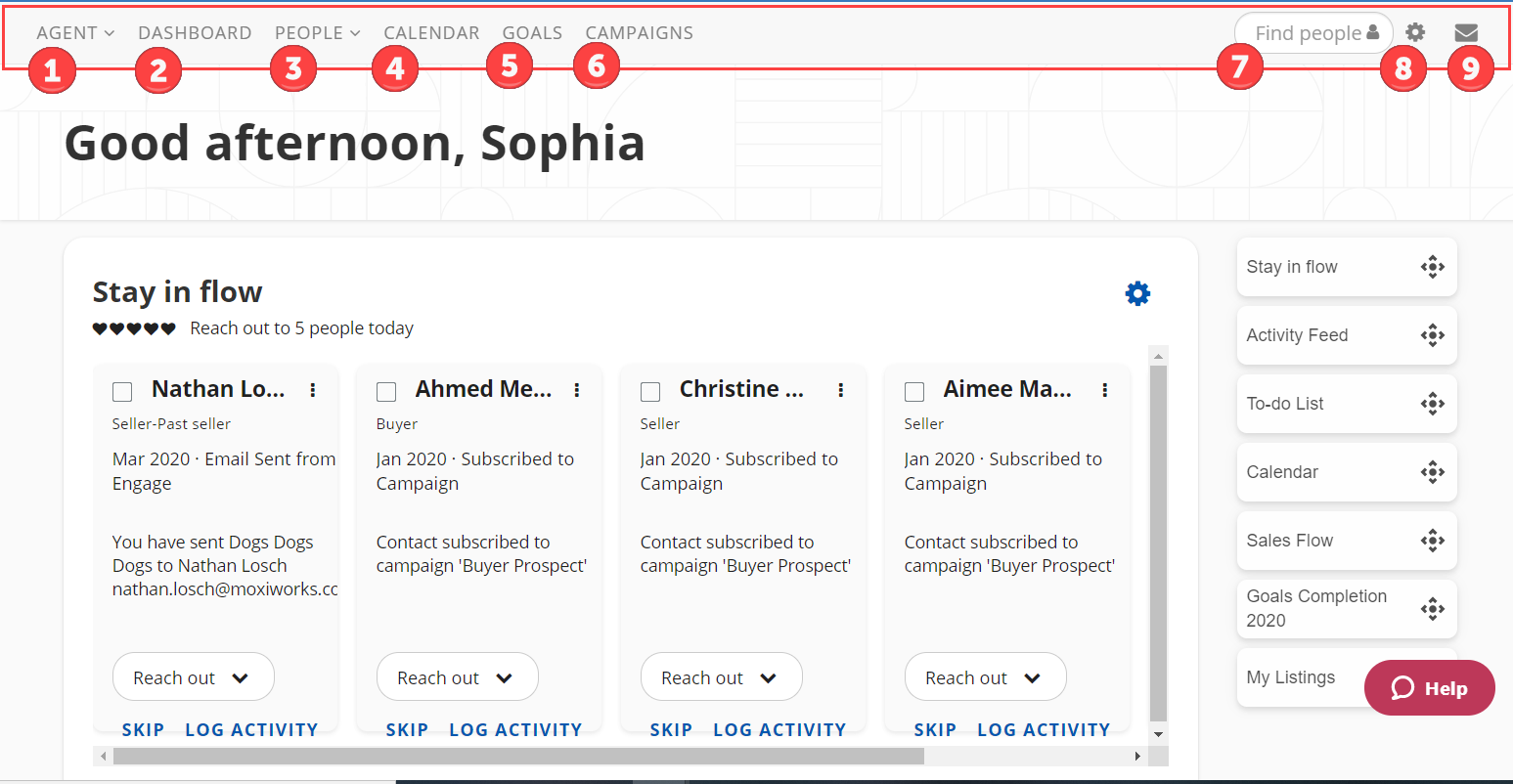 Agent: Identifies the current dashboard mode.

If someone has manager, team, or talent access they will be able to switch between their dashboards using this drop-down menu.

Dashboard: Head back to the dashboard from any screen in Engage.
People: Access your contacts via drop-down options.

Overview: View Recommended Actions, Recently Viewed contacts, and see your Sales Flow.
My People: View and manage your full list of all contacts in your sphere.
Add People: Add a contact to your sphere.

Calendar: Access full Calendar.
Goals: View full Goals module.
Campaigns: Access your Campaigns homepage and track your Neighborhood News subscriptions.
Find People: Search for contacts from any screen.
Gear Icon: Access Engage Settings.
Envelope Icon: Email through MoxiEngage.
2. Sticky Side Bar: This bar represents all modules on the Dashboard and can be used to navigate to any module from anywhere on the page. You can also use the Arrow Icons to adjust the order in which the modules display by dragging and dropping where you choose (see below).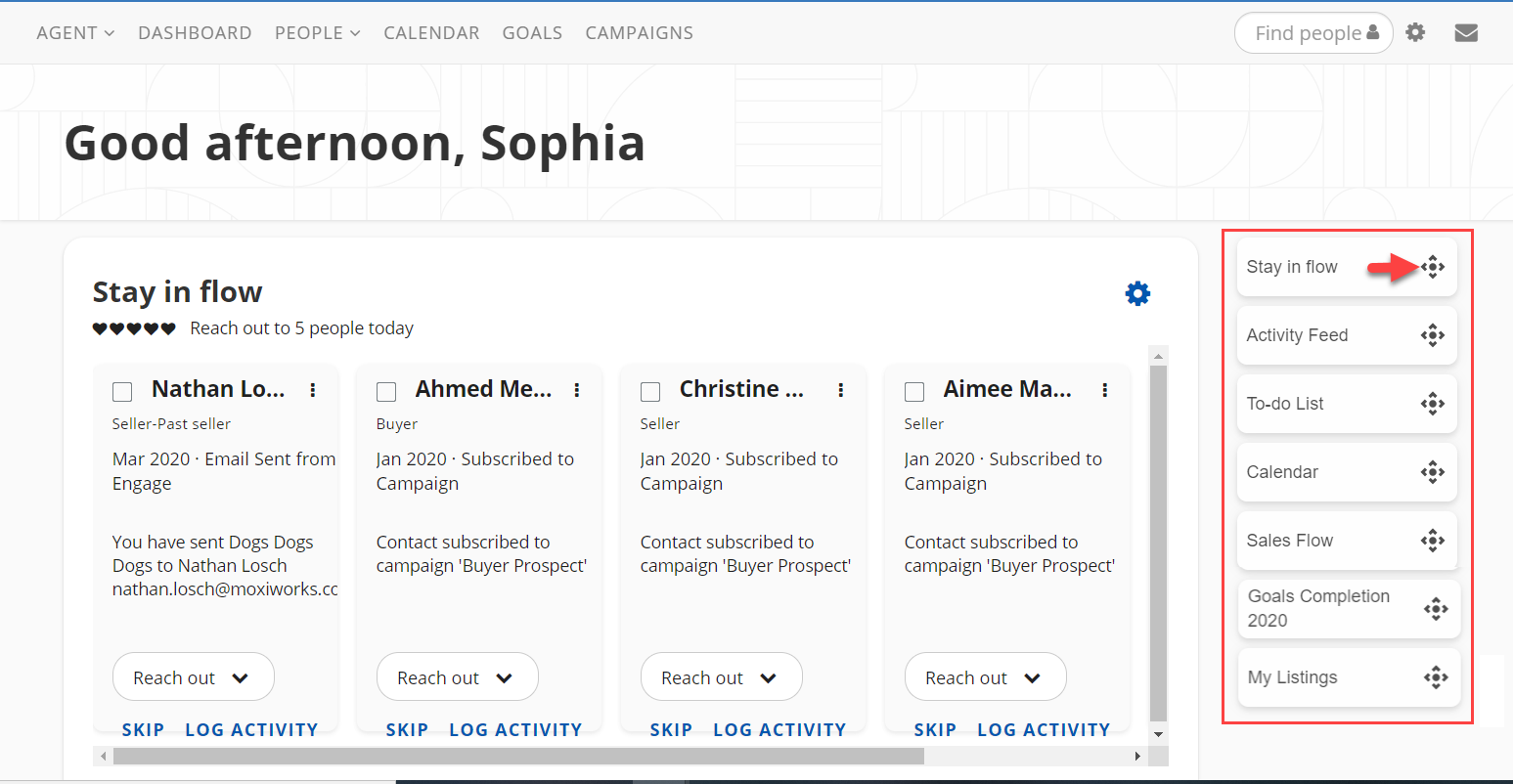 3. Stay In Flow: This module shows you contacts who you may not have connected with in a while and helps you to stay in contact with them. You can adjust the settings using the Gear Icon to choose your perfect reminder cadence (see below).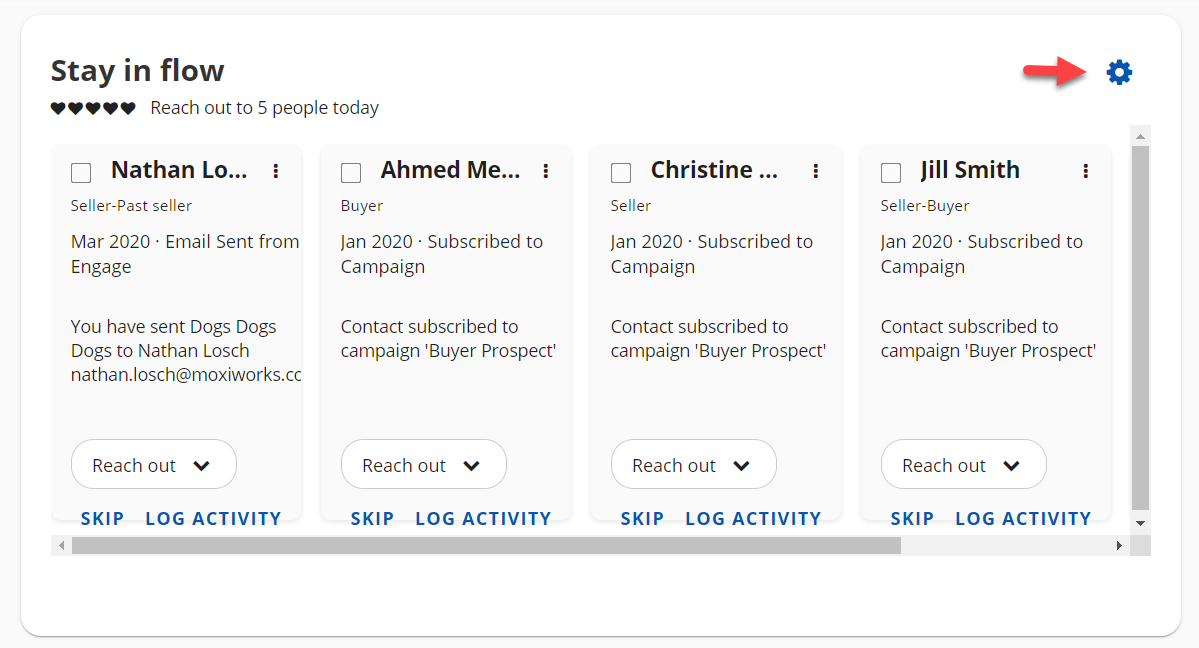 4. Activity Feed: Displays recent activity in your sphere. You can adjust the setting using the Gear Icon to choose which activities you want to be featured and how recent those activities were (see below). Note: the further back in time you would like to display, the longer it may take to populate the list.

5. To-do List: Displays both transaction tasks and any additional tasks you would like to include to keep yourself on track. You can add To-do List tasks from the dashboard or you can add transaction tasks as needed (see below).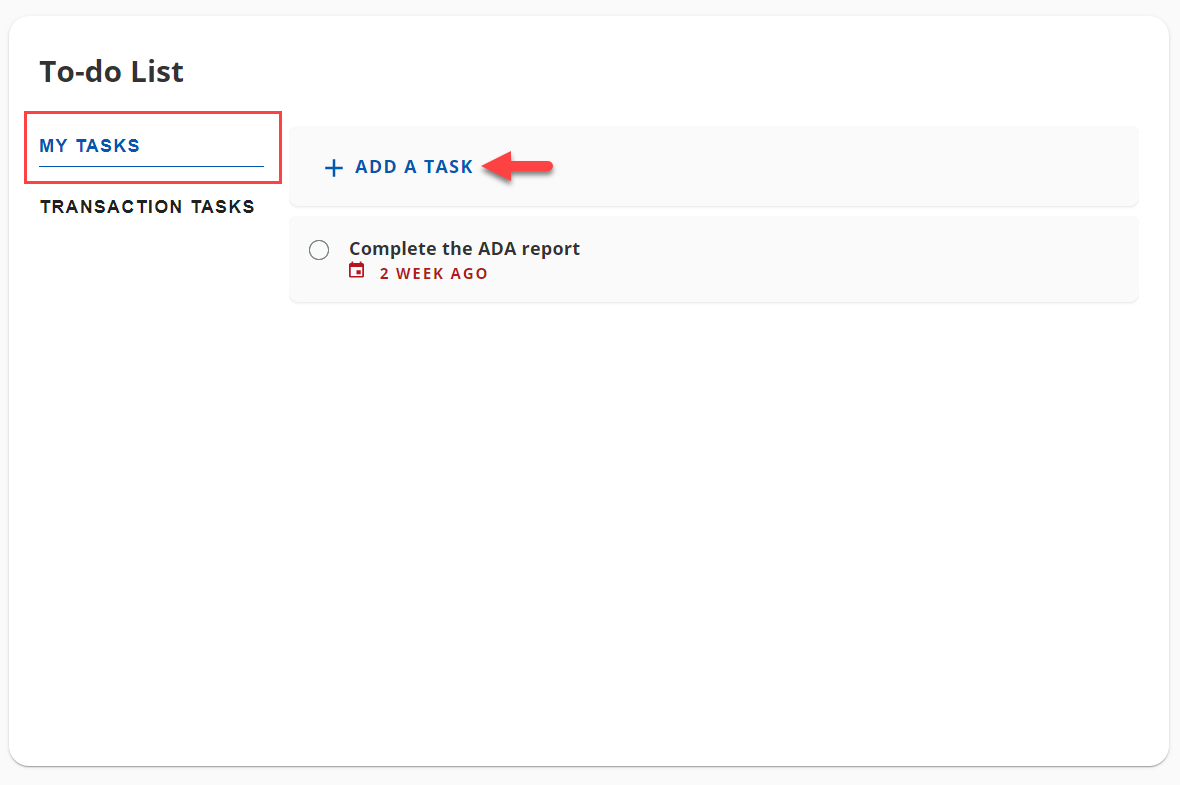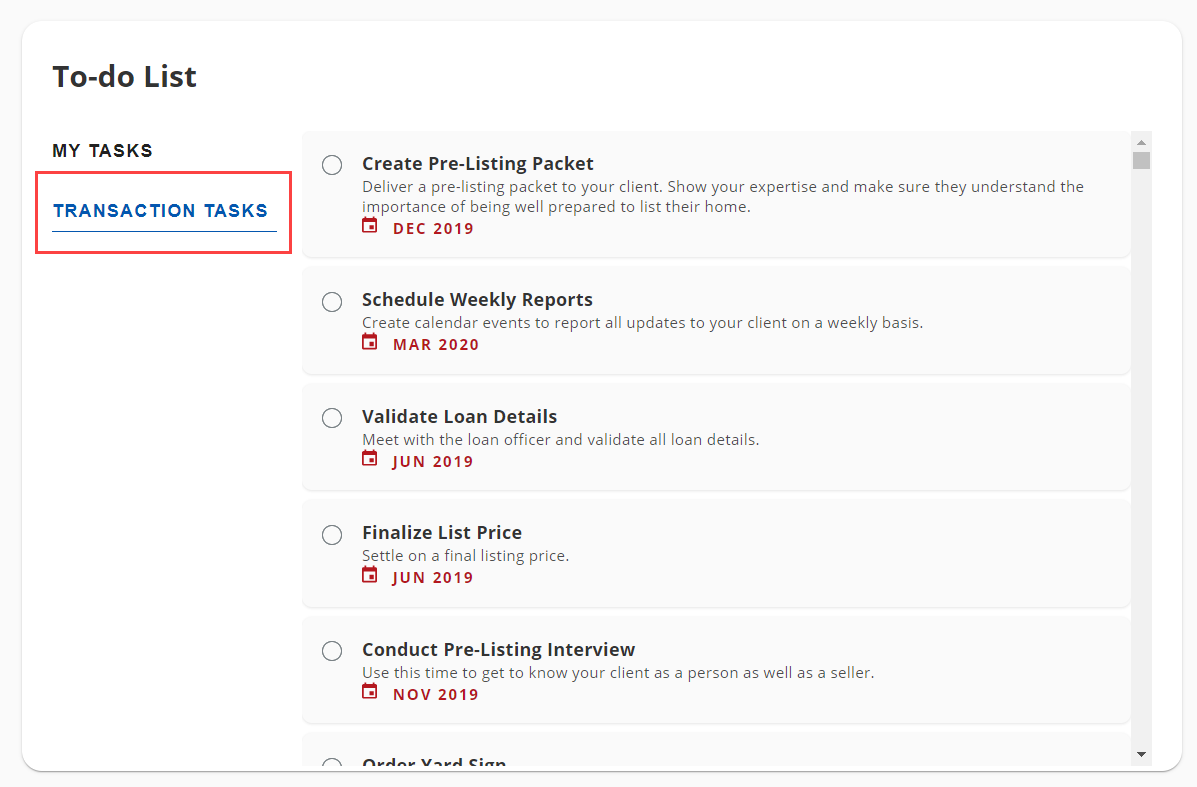 6. Calendar: Displays your daily calendar tasks. Select View to navigate to your full Calendar (see below).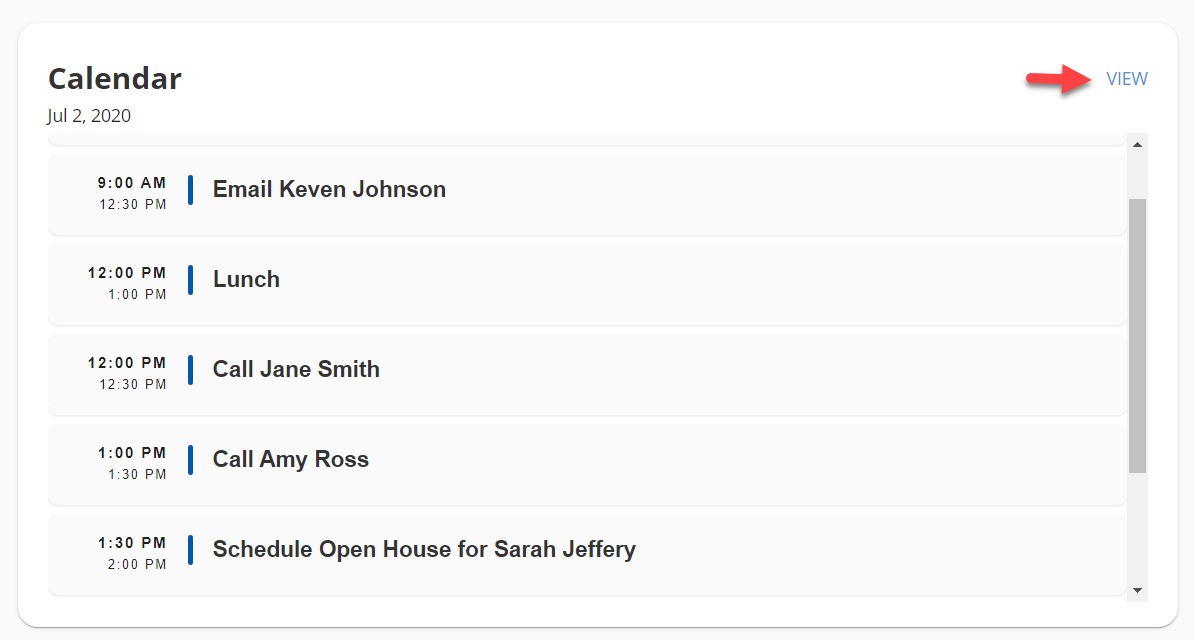 7. Sales Flow: Displays your current Sales Flow as well as contact and transaction count. Select any of the sections to navigate to that group in the My People screen (see below).

8. Goals Completion: Displays the current year's GCI goal. Select View to navigate to the Goals page. You can also choose if you want to display the GCI dollars using the Gear Icon (see below).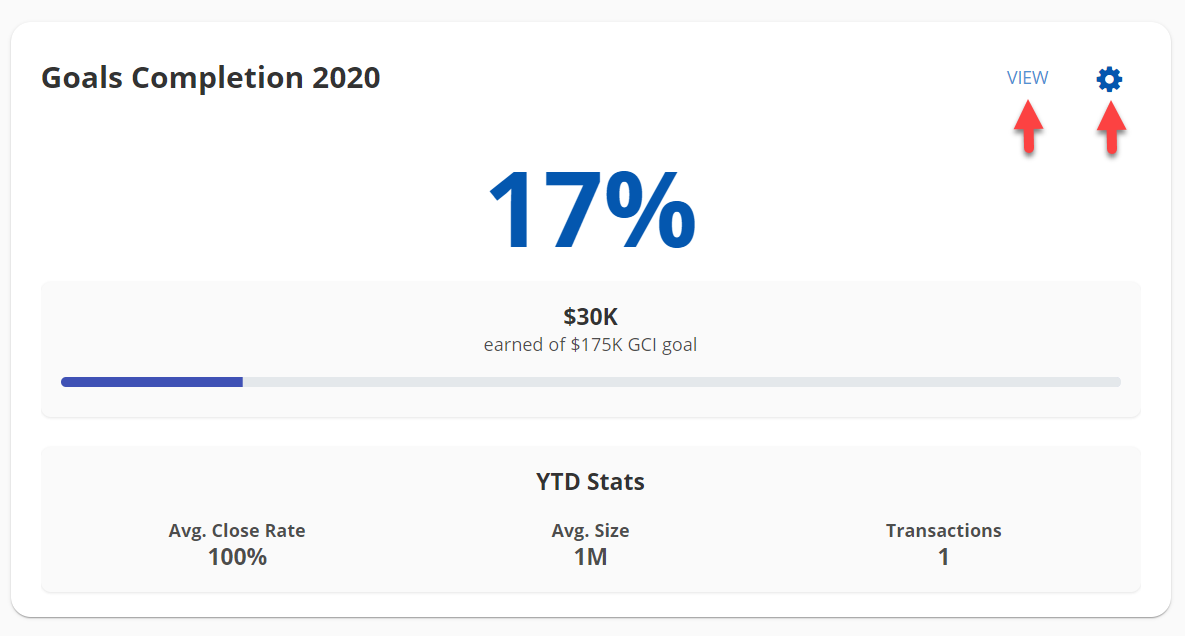 9. My Listings: Displays all current and sold listings associated with your account. Select a listing to view in Listing Manager or select View to see all listings in your Listing Manager (see below).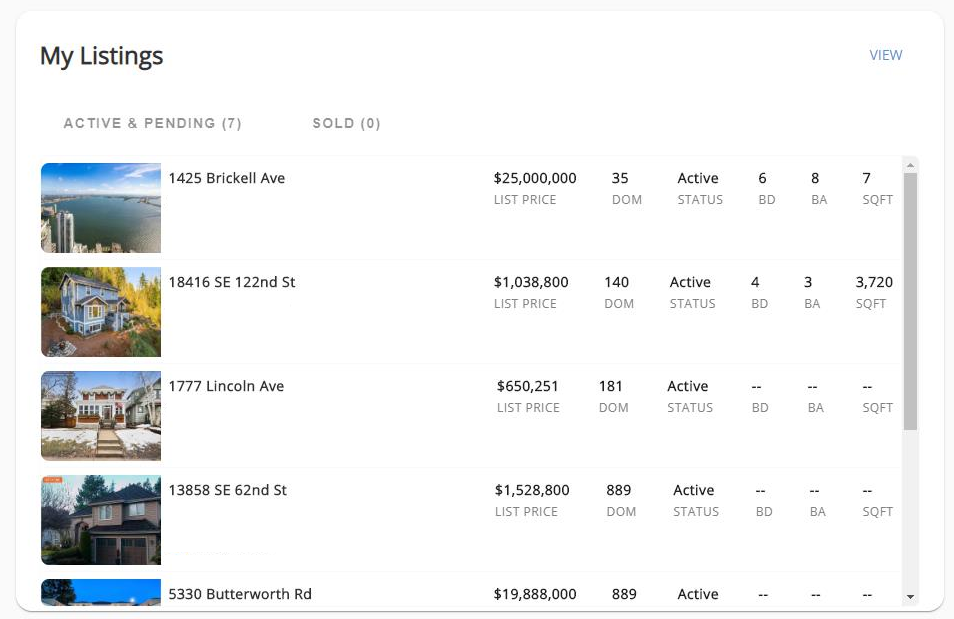 For more details about all the settings, you can customize, see the articles linked below.
Adding Tasks to Your To-do List Dashboard Module
Goals Dashboard Module Settings
Activity Feed Dashboard Module Settings