Here on the Personalize Your Site's Style screen, you create the basic look and feel of your Website. With four quick and easy steps, you can personalize your own Website.
NOTE: Older themes, not mentioned below, have been decommissioned. If you have one of these older themes, be sure to save any of your custom content prior to selecting the new Contemporary theme (listed in Step 2 below). Most features and selections will transfer, but custom content will need to be saved and re-added to your Homepage.
Click here to learn how to Save Your Custom Content.

For more information about customizing the header and footer on your site, check out these articles:
Header: https://support.moxiworks.com/hc/en-us/articles/115000312766-Customizing-the-Header-of-your-Agent-Website
Footer: https://support.moxiworks.com/hc/en-us/articles/115000328723-Customizing-the-Footer-of-your-Agent-Website
Step 1: Choosing Your Homepage Layout
You can find your homepage layout options in the Appearance options of your website (see screenshot below).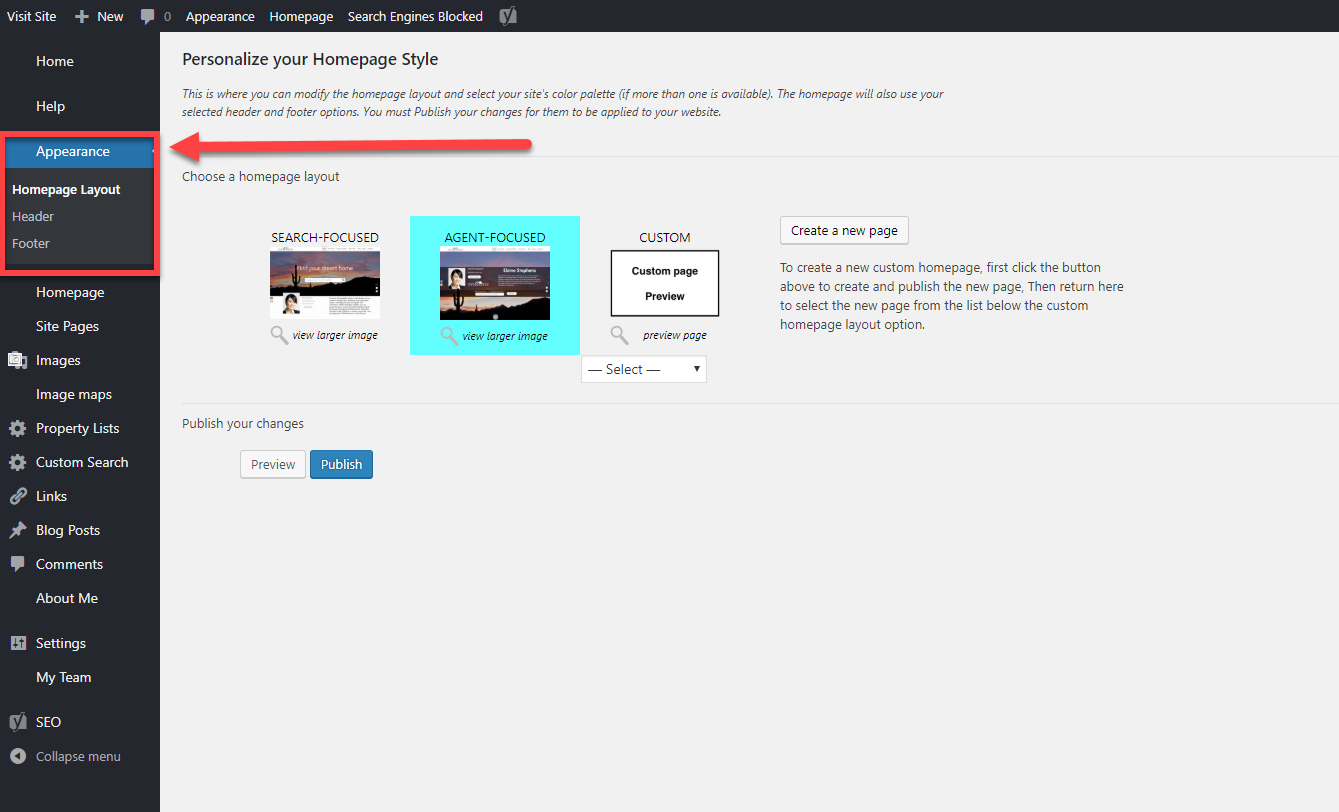 The Contemporary Theme has three layouts:
SEARCH-FOCUSED: This layout looks and feels like common social media sites, and uses a prominent search feature to help site visitors begin the hunt for their perfect home right away
AGENT-FOCUSED: This layout features a larger background image and focuses attention toward your photo, contact information, and welcome text
CUSTOM: This layout option allows you to create your own custom home page using Page Builder. Once your custom page has been created and published, you can select it from the drop-down menu option underneath the custom homepage option (See below). For more information on building your own webpage, check out this article about Page Builder: https://support.moxiworks.com/hc/en-us/articles/115000500806-Page-Builder-How-to-Use-Page-Builder
To select your homepage layout, follow these steps:
Sign into your Agent Website and navigate to the Appearance option as seen above.
Select your layout.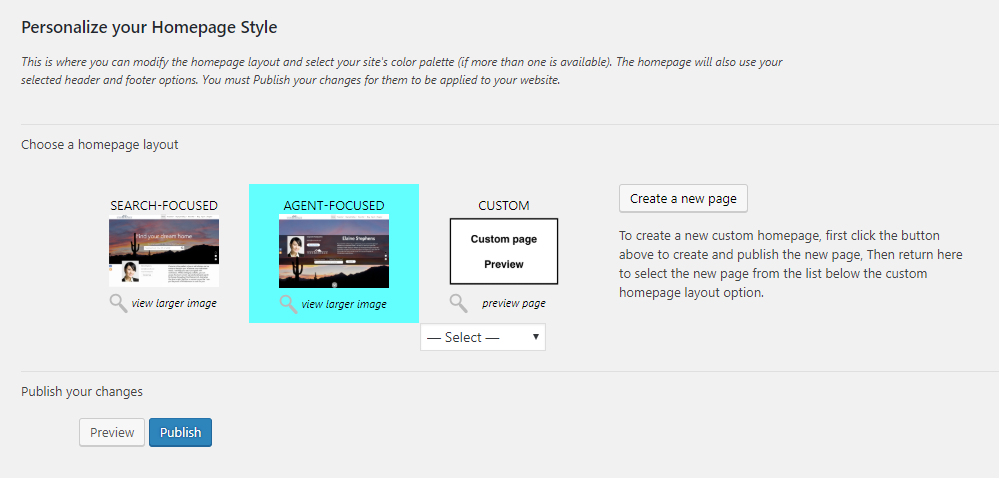 3. Click Publish.
Step 4: Publishing Your Changes
Once you are done making all of your site changes, click Publish to save all of your changes.
You have now personalized your site's style.