We no longer use the office profile to control an office's access to agent.ez. The checkbox is there to show the status, but it is disabled.

You now control the agent.ez access on the office settings tab of the office profile.

There are 3 access levels: lite, standard, and plus
                                                               i.      Lite means they only have access to the escrow form -- free
                                                             ii.      Standard is what all of our offices are currently on – some per agent cost
                                                           iii.      Plus includes the stats.ez dashboard – some increased per agent cost
If an office has ANY level of agent.ez access, they can now access the "Agent EZ Setup" page (offices > profile > Agent EZ Setup) to invite users and control page access. They can view a list of their agents, when they were last invited, and when they last logged in. By default the filter is set to only show agents that have never logged in.

The user can select a checkbox for an agent, and invite them to Agent.EZ. The password is automatically changed to a random string, and the email address on file is emailed with the standard welcome message.

In addition, they can set the pages that are available to their agent.ez users, depending on their agent.ez access level.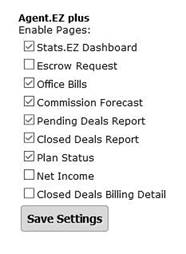 !!! Please note !!!
The last login and last invite dates are not accurate at this point, as we've just enabled these features. I attempted to backfill as best as I could, but there are likely some agents that have been invited that do not have an invite date.
The Agent EZ Setup page can be accessed by the Super User, so you can do the initial onboarding for the office.
The steps for onboarding a new office to agent.ez:
Go to office > profile > contact info > settings tab as a super user.
Set the level of agent.ez access this office has.
Go to office > profile > Agent EZ Setup (as a super user or the admin user for the office)
Turn on or turn off any pages that they don't want to see. By default, when setting the access level in step 2, the default pages are enabled.
Invite a test agent if they would like to have one agent test.
Explain to the admin that they can manage their agents and access to pages by visiting the Agent EZ Setup page.
For agent.ez plus customers, they need to have stats.ez set up and the dashboard set by Robert/Casey.