The Upload Your Own design templates enable you to upload your artwork into the Marketing Center for professional printing or digital distribution. This is an ideal way to utilize flyers you already designed - whether provided by your office, created personally, or designed professionally. Uploading the file into the Marketing Center lets you take advantage of integrated magazine-quality printers, web hosting, email distribution, and analytics.
If your brokerage has the Upload Your Own template, you will find it in the Design Gallery by searching for "upload your own":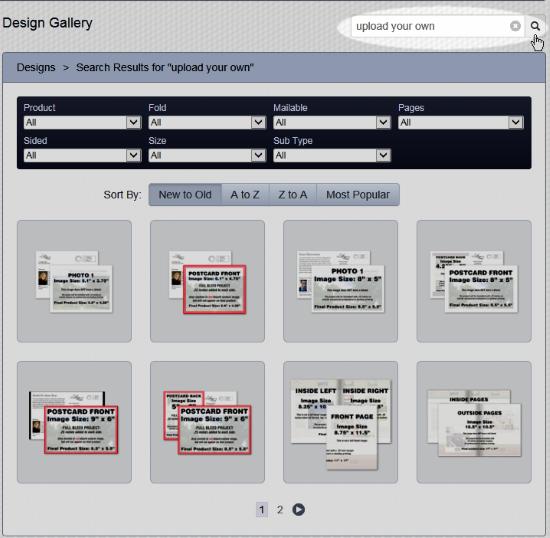 Uploaded files must be high-quality, large JPEG or JPG files that are at least 150 DPI.
Determine whether you choose the bleed or non-bleed option:
Use the bleed option when you print your piece with a professional printer. This allows the ink to extend to the edge of the page. Note that when the bleed option is printed, the edges of the image will be trimmed slightly. For this option, your uploaded file should include a bleed of 1/4" on all sides.
The non-bleed option should be used for desktop printing on your home/small office printer. This option leaves a white border around the edge of the paper because printers for home and small office use generally cannot print to the edge of the page.
Like all of the Marketing Center's products, the Upload Your Own designs feature full web statistics tracking when hosted. You may post hosted projects to your website or distribute them via email through your email account or our Premium Email service.
In addition to fully customizing the jumbo and standard postcards, some of our Upload Your Own designs allow you to use a pre-formatted back containing standard contact information.