Projects including editable photos will also have a Photos tab where you can upload photos. To upload photos:
Click Add Photos near the right side of the page:



Select My Computer:



Click the Select File(s) to Upload button:



Use the resulting dialog to locate the image file(s) on your hard drive, memory card, camera or USB thumb drive.
Click the image file to select it. Hold down the "CTRL" key or "Shift" key while clicking to select multiple images for upload.
Click the Open button after selecting images to upload them.

When uploading is complete, all items in the "Transferred" column will show "100.0%", the "Status" column will show "Complete", and the "Action" column will show a check mark. Click the Close button to return to your project.



Drag and drop images to rearrange them:

Cropping
If the option to automatically crop photos for this project is enabled, the photos are cropped for you, as you add them to the project. See How can I enable or disable the automatic cropping of images? for more information. You can use the cropping tool to re-crop an image, if the automatically selected cropping is not to your liking.

However, if the option to automatically crop photos for this project is disabled, images that need to be cropped (to prevent stretching or squishing of the image in the final project) will be highlighted with a red outline, and the 'Crop' icon for the image will be highlighted in red. If the dimensions of the image differ significantly from the dimensions of the photo slot, the image will also appear stretched or squished.

Note: The option to automatically crop photos is not displayed for all project types. Some project types do not require image cropping.

To launch the cropping tool for an image, click the crop icon that appears below the thumbnail: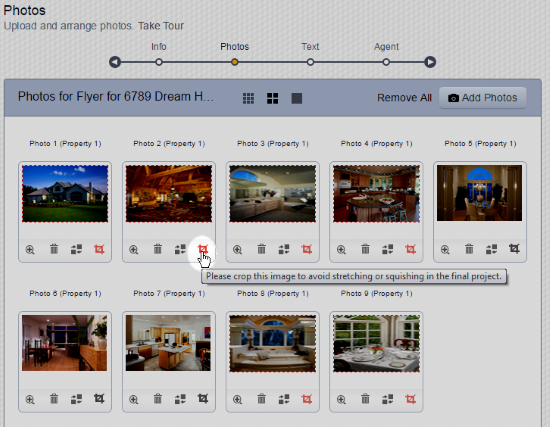 Note: Floorplan photos should be uploaded with the rest of the property photos.