As agents, we want to be good citizens and comply with all applicable laws.  For agents who work in Canada or with Canadian clients, Canada's Anti-Spam Law (CASL) is in effect.  CASL's key feature requires Canadian and global organizations that send commercial electronic messages (CEMs) within, from or to Canada to receive consent from recipients before sending messages.
We have upgraded MoxiEngage to ensure you are in compliance with CASL. Your campaigns or Neighborhood News subscriptions will only be sent to those clients who have given their consent to receive marketing materials.  Those clients who have not provided their consent will not receive campaign or subscription marketing even if you place them in the recipient list.  Here's how it works.
Quickly spot who has or needs consent from where you're working with your people. On the My People screen, sending a Campaign, or subscribing to Neighborhood News, you can see who will need consent and update their information on the go.
My People
Within your My People area you will also see if the client has given you their consent to market to them.  By selecting the email icon next to any client who has not given consent, you will see an email with a block entitled Check for Consent.  Selecting this will confirm the consent status for the client.  You can email the client for consent directly from this screen.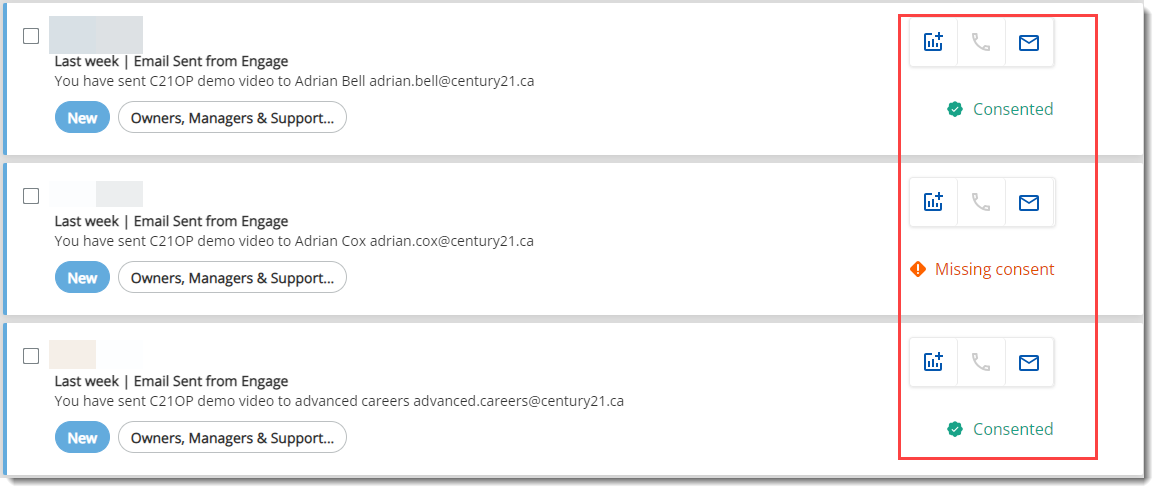 Contact Record
Going into the record of the client who has not given consent, you will see an area called Consent Status. 

Select Update Consent and the Update Consent Record screen appears.  Select the status that best represents the client and select Save.

You can contact the client to get their consent.
Campaigns
When sending a campaign and adding recipients to a campaign, you will see a status list of who has and who has not given their consent to be marketed to.  Selecting Add Recipients will bring up the list of those added to your campaign.

The recipient list will highlight who has given consent and who has not.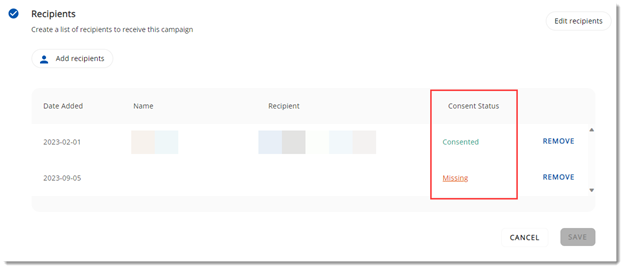 Selecting the Missing action item will bring you to the Update Consent Record screen.
Any client who has is recorded as not having given their consent will not receive the campaign.
Neighborhood News
Adding an individual Neighborhood News subscription will bring up the Update Consent Record screen if the contact has not given their consent. 
 When adding multiple people to a Neighborhood News subscription and any person is missing consent, you will see a modified Update Consent Record screen for each contact.  If you do not gain their consent, the Neighborhood News subscription cannot be sent to them.

If there are multiple contacts who have not given their consent yet, you can toggle among Update Consent Records for each contact via forward and back arrows.

These improvements to the Engage contact records will ensure you stay within compliance and only market to those who wish to receive your materials.