Campaigns allow you to connect with your sphere of influence via a collection of emails. You can send these collections, or campaigns, as a specific date or sequential campaign. All campaigns can be managed from this homepage. You will be able to see all of your campaigns, their open rate, unsubscribes, total people subscribed to each campaign, and which campaigns are still needing to be set up or are running.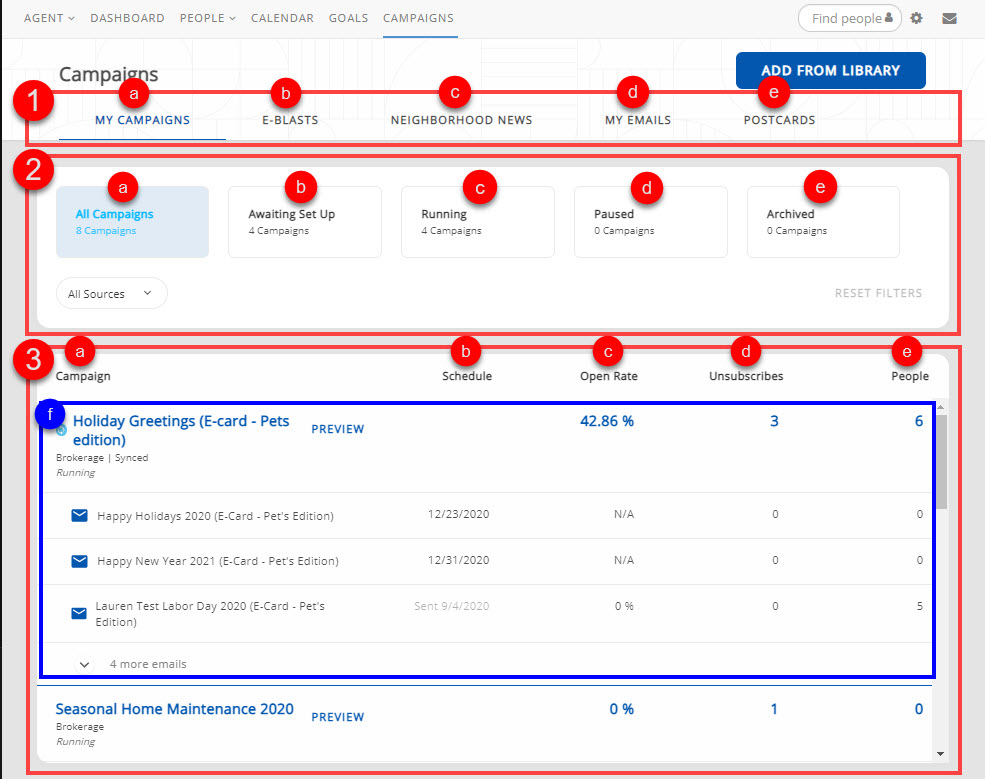 Header Tabs

My Campaigns: View your campaign status and all campaigns included under selected status.
E-Blasts: View all your one-off e-blast style campaigns.
Neighborhood News: See information regarding open rate, unsubscribe, and activity for Neighborhood News.
My Emails: See all emails added to your dashboard from the Library
Postcards: If your brokerage has a relationship with Quantum Digital printing company, you can access your account from this tab.

Campaign Status

All Campaigns: Every campaign regardless of status will display below.
Awaiting Set Up: All campaigns you have added from the Library but are not running.
Running: All campaigns currently sending to the subscribed list of people.
Paused: All campaigns you have paused so they are not currently sending.
Archived: All campaigns that have completed their run.

Campaigns

Campaign: Name of campaign
Schedule: Date of next email
Open Rate: Percentage of open emails
Unsubscribes: Total number of people who have unsubscribed from the campaign.
People: Total number of people actively receiving the campaign
Individual Campaign: Preview the campaign as well as see all upcoming emails.
Adding a Campaign from Library
Use the Add From Library button to choose either a new campaign or email so you can start communicating with your sphere.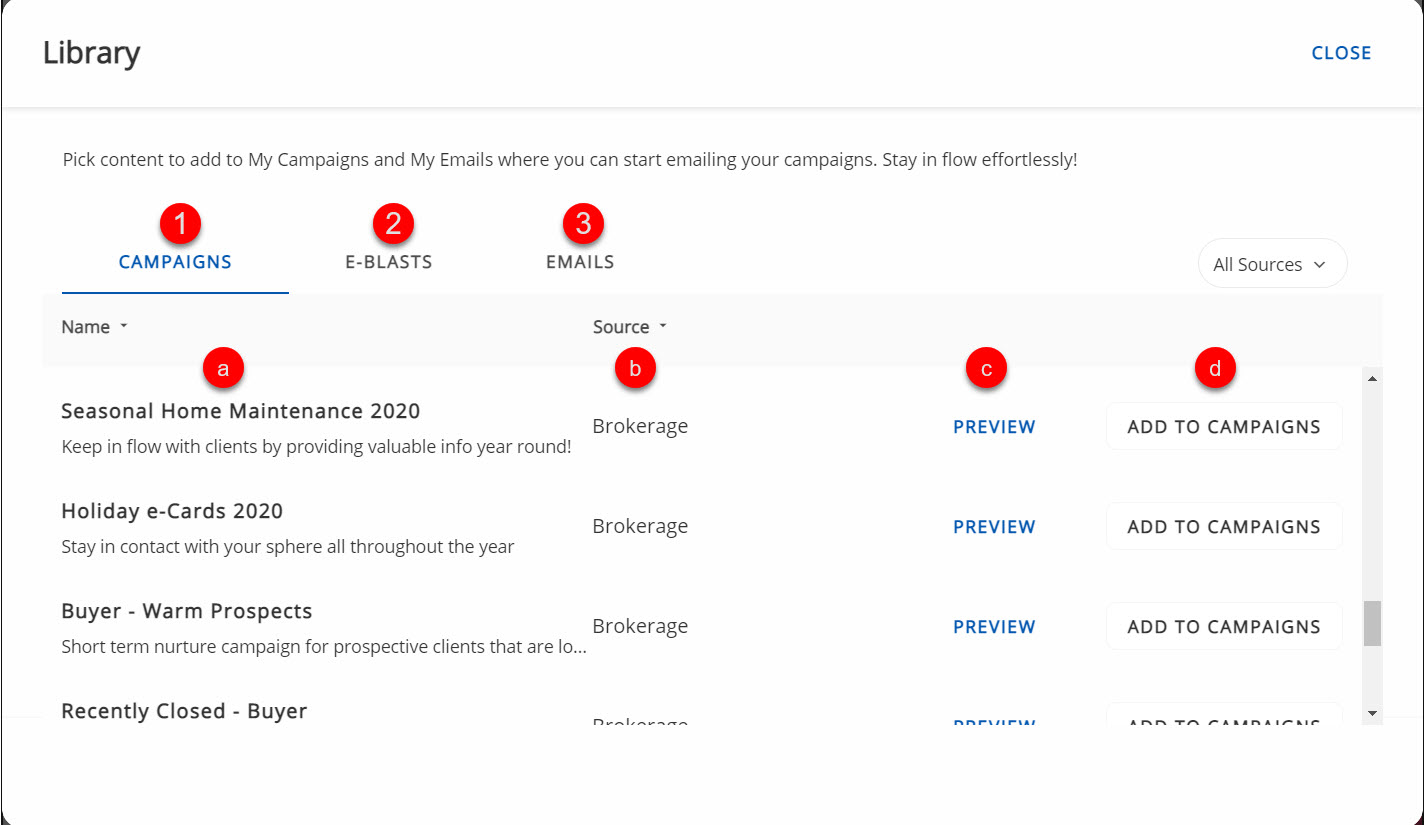 CAMPAIGNS: Select a campaign from the list
E-BLASTS: Select a campaign that contain a single email to be sent to your client.
EMAILS: Select emails tab to choose individual emails to add to your campaigns.

NAME: Find the campaign, e-blast, or email you want from the title and short description
SOURCE: Campaigns, e-blasts, and emails can be created by your brokerage, specific region, or office. Source lets you see who created the content at-a-glance.
PREVIEW: View each campaign, e-blast, or email before adding to your personal library.
ADD TO CAMPAIGNS: Select this option to add the campaign or e-blast. To add the email, select the ADD TO EMAIL button under the same column on the EMAILS tab.
Adding People to your Campaign
Select the campaign you wish to work with, then select Setup next to Recipients.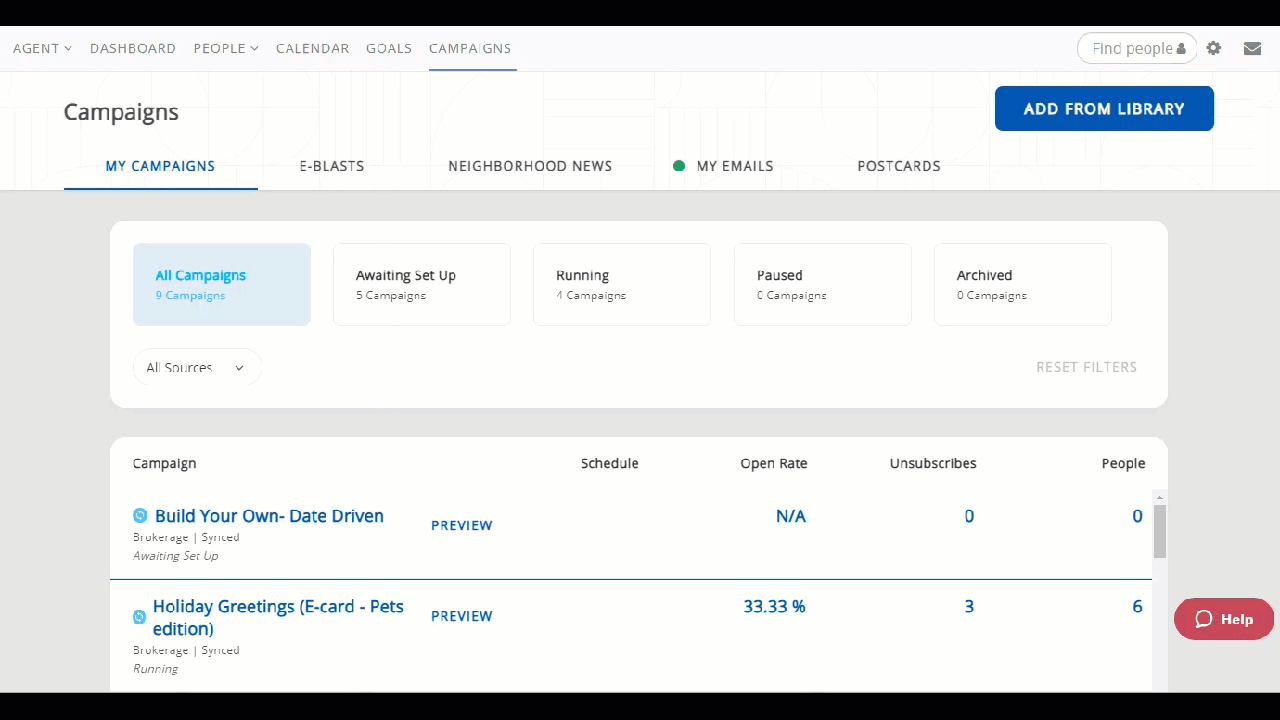 Select Add recipients.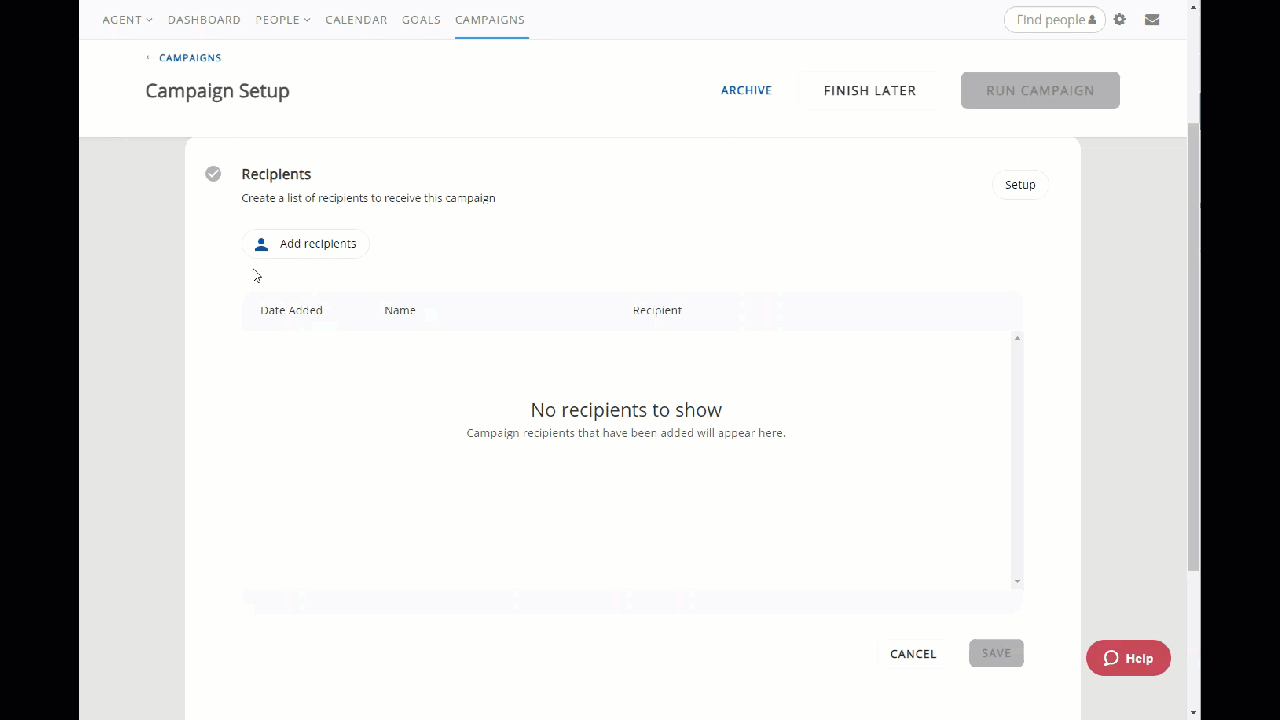 You can select either groups of people or search for individuals in your Engage database. Then select ADD.
Note: When selecting a group, any person added to that group in the future will automatically be subscribed to the campaign.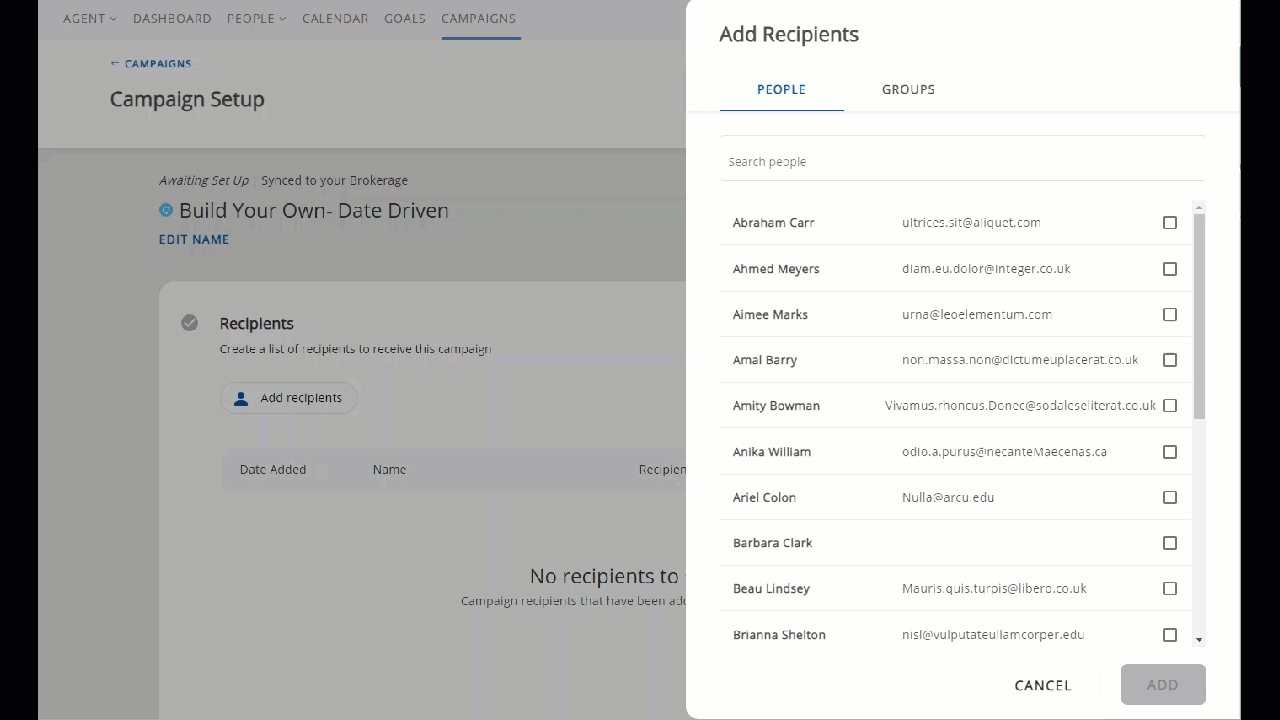 When done adding people and groups, choose Save.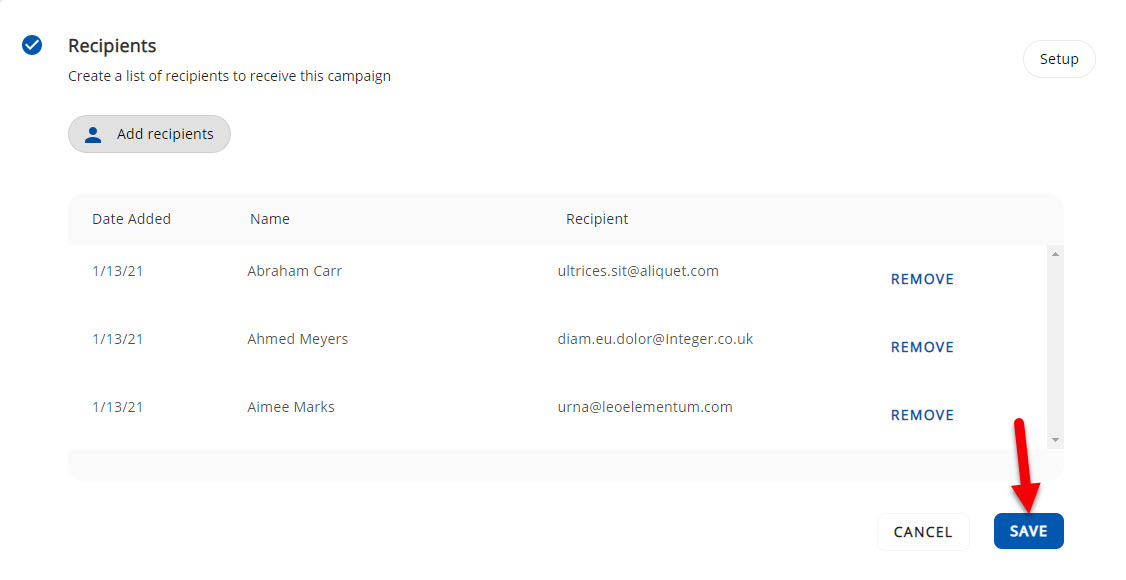 Running a Campaign
After you have added to people to your campaign, select Run Campaign to begin sending your emails.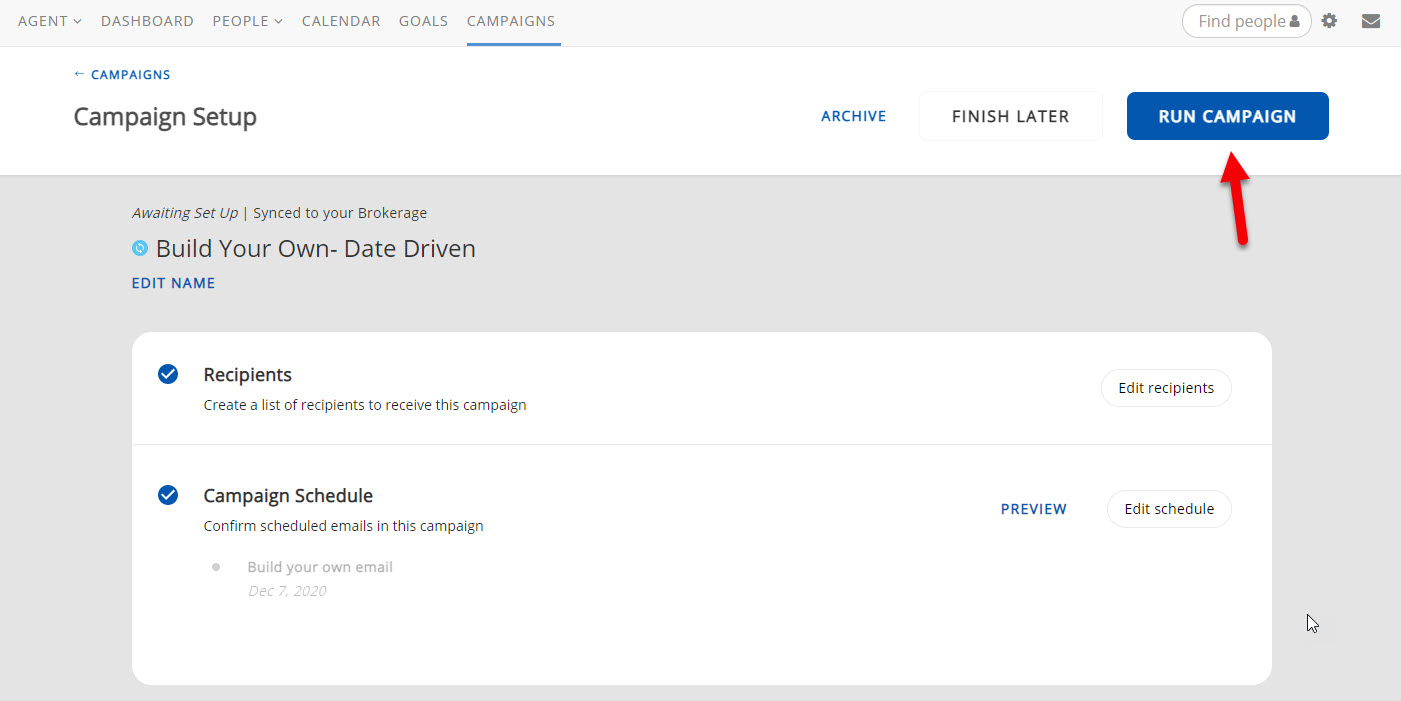 Reviewing your Running Campaigns
See your campaign success at a glance from the main homepage under Running.