Question:
How can I print my MoxiImpress marketing pieces?
Answer:
You have several options for printing your finished projects:
Download and print yourself.
Download and take to your favorite local print shop for printing.
Download for upload to your favorite online print shop's online order form.
Print via the Marketing Center's integrated online print partners' services.

Note: Not all project types can be sent to our online print partners due to limitations in the size and types of projects they can print.
To access print options for a project, after logging in:
1. On the main menu at the top of any page, select Projects (see below).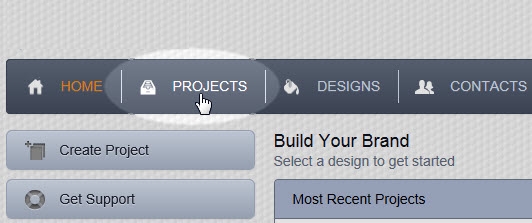 2. Choose the folder which contains the project you want to edit.
3. Select the project you want to edit. Hover your mouse cursor over a project to get a better look at the project name.
4. In the right column of the page you'll see the phrase "Print Options", below which you'll see the available print options for the project. Specific information about each of the available options is provided in other entries in this section of this FAQ


.
Note: If after clicking a button for one of our print partners (highlighted in the image above) you were not taken to the print partners website to complete your order, then your browser's popup-blocker likely prevented the transaction.
1. Look in your browser's address bar for an icon that indicates a popup was blocked, like the icon highlighted in this next image.
2. Select that icon for options, then select the option to Always allow..., and then select Done (see below).
3. Reload the page, then return to step 4 above to try again.