With your agent website, you can choose to have a number of custom domains pointing to your site. This allows visitors to use multiple domains to access your site and can be great for keeping your branding on message. Check out these great tips and tricks for connecting and managing your domain on your Agent Website.
Connecting Your Custom Domains
Step 1 - Adding Your Domain
Step 2 - Updating Your Domain Records
Step 3 - Setting Your Primary Domain
Connecting Your Custom Domains
To manage your domains, navigate to Settings and choose Personal Domains from the drop-down (see below).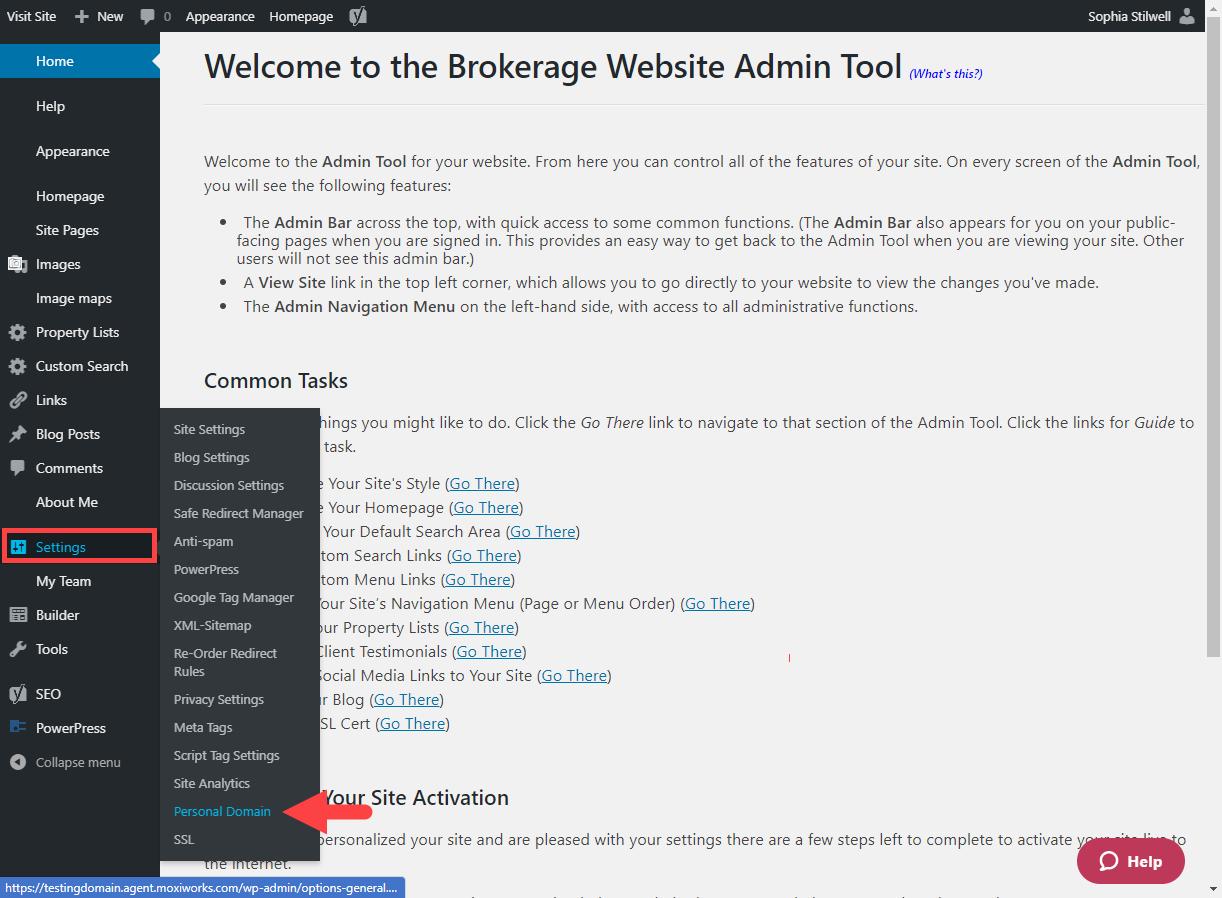 Step 1 - Adding Your Domain
Add the domain name to the Domain Name field, excluding 'www', choose if you would like this domain name to be the primary for your website once completed, and then select Continue.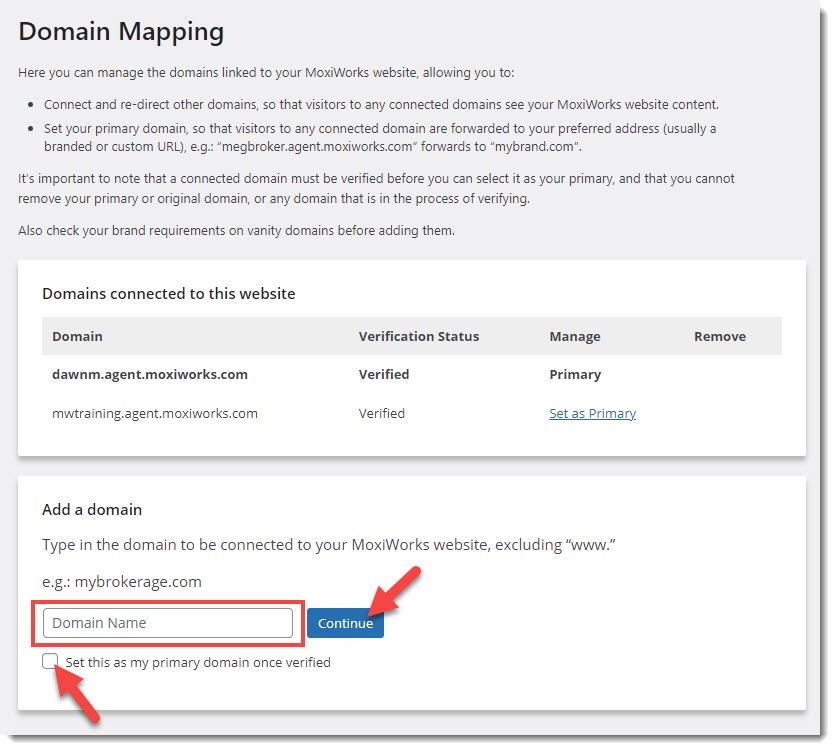 Once you click Continue we send an email with instructions.
Step 2 - Updating Your Domain Records
You will need to change some information about your domain name with your domain host (e.g. GoDaddy, Google Domains, Network Solutions, etc...):
Follow the instructions in the email you received (in the previous step) to add the correct A and CNAME records. Where do I find the CNAME and A record that I need to enter into my registrar?
Most domain hosts or registrars will also have instructions on their support sites to show you how to make these changes. Below are links to the most widely used domain hosts:

CAUTION: Domain hosts and registrars may encourage you to use forwarding or redirect rules through your registrar instead of or in addition to the instructions listed above. It's important to remove any forwarding and only apply the 2 changes stated above for your domain to work correctly with MoxiWorks websites.

NOTE: Please be aware that domain name changes may take 24-36 hours to update throughout the Internet. Once finished updating, your domain name will connect to your MoxiWorks website for anyone who goes to the address.
After completing the changes to your A record and www CNAME, select the Verify Domain button.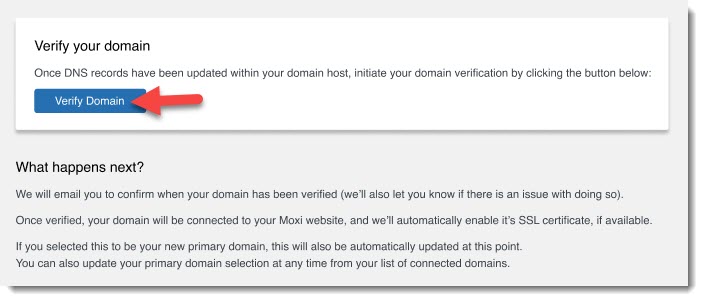 TIP: If you've closed the Domain Mapping screen to update your Domain Record, you can select the Verify link in the list of connected domains at the top of your screen when you return.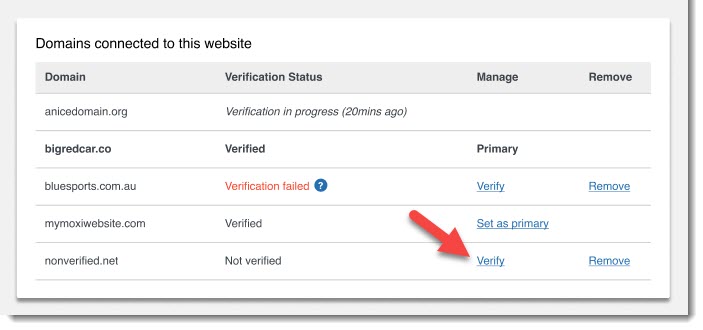 NOTE: Once your domain has been verified, you will receive an email with confirmation that your domain is ready.
Example email when domain has been successfully verified.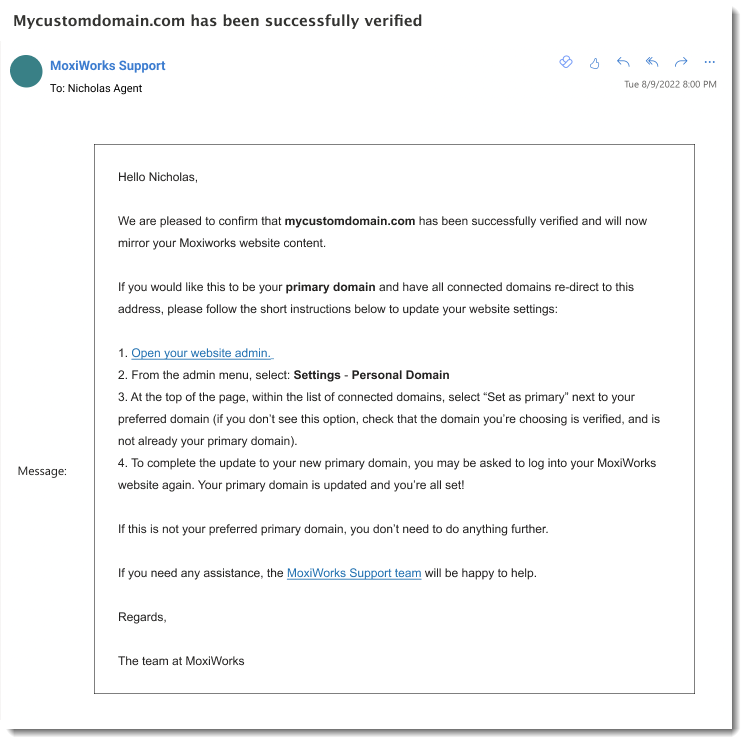 Example email when domain has been successfully verified and applied as your primary domain.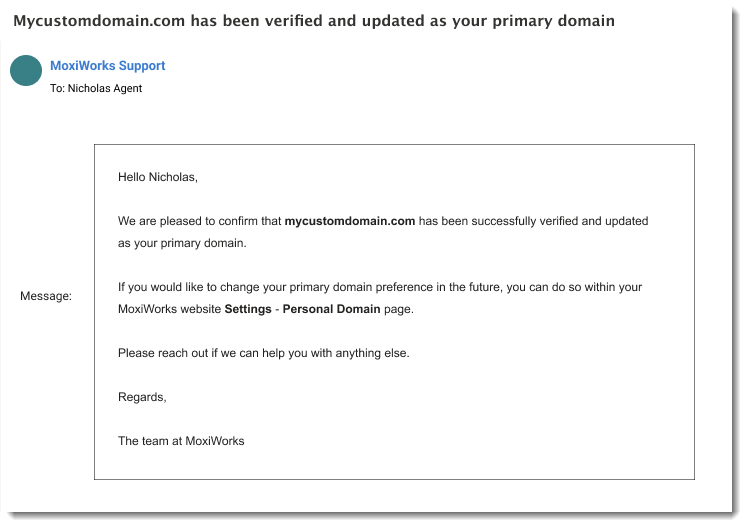 Step 3 - Setting your Primary Domain
Once you complete the steps above, anyone who has your vanity or custom domain name can visit your MoxiWorks site. And if you selected to automatically set as primary when verified, this step is taken care of for you. However, if you did not choose to have your new domain name set as primary in step number 1 above, then the website URL displayed in the address bar will remain the original URL until you select a different Primary Domain.
To set your custom domain as your Primary display address:
Navigate to the MoxiWorks Website Admin.
Click on Settings.
Choose Personal Domains from the drop-down menu as shown in the first step above.
Find your custom domain name located under the Domains connected to this website at the top of the page.
Select Set as Primary under the Manage column.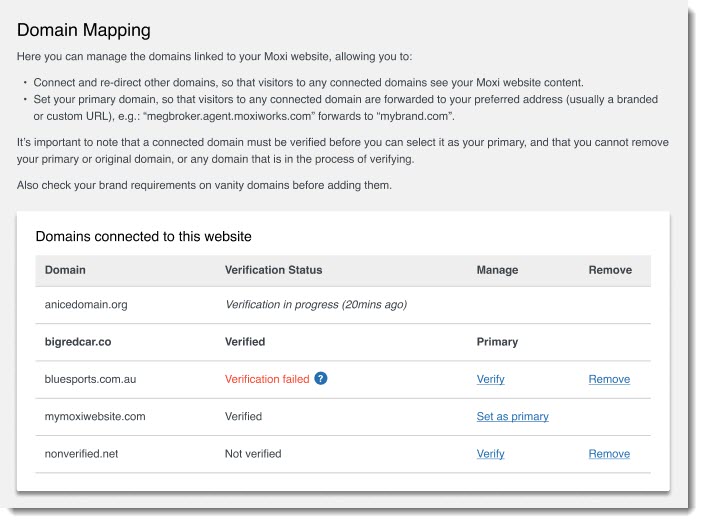 NOTE: If your domain is not yet ready to be set as primary, you will see the Verification in progress under the Verification Status column.

NOTE: If your verification failed, you will receive an email advising you of this with the information included regarding the next steps (e.g. updating DNS records). Once corrections have been made, select Verify under the Manage column to verify your domain.
Additional Resources
After connecting your Custom Domain, take a look at How to Secure Your Website!