While looking through your people, you may want to sort the order to help find contacts faster. Moxi Engage will help you to sort your people by first name, last name, date added and more. Follow the steps below to sort your people.
Sort your People
1. From the My People screen, select the Sort by drop-down menu.

2. Choose how you want to sort your contact list.
First Name
Last Name
Recently Viewed
Recently Added
Recently Modified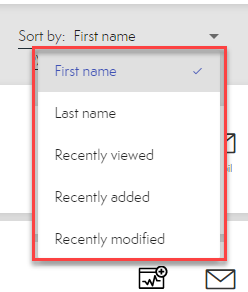 3. Use the Sort Order button to flip the order. e.g. Change the list from A-Z to Z-A sorting.