Keeping track of your contacts in MoxiEngage is now easier than ever! Use filters to see the contacts you need and hide the ones you don't!
Filtering Your Contacts
Filters narrow the view of your people by filtering a person's place in the Sales Flow, finding contacts with missing information, and much more.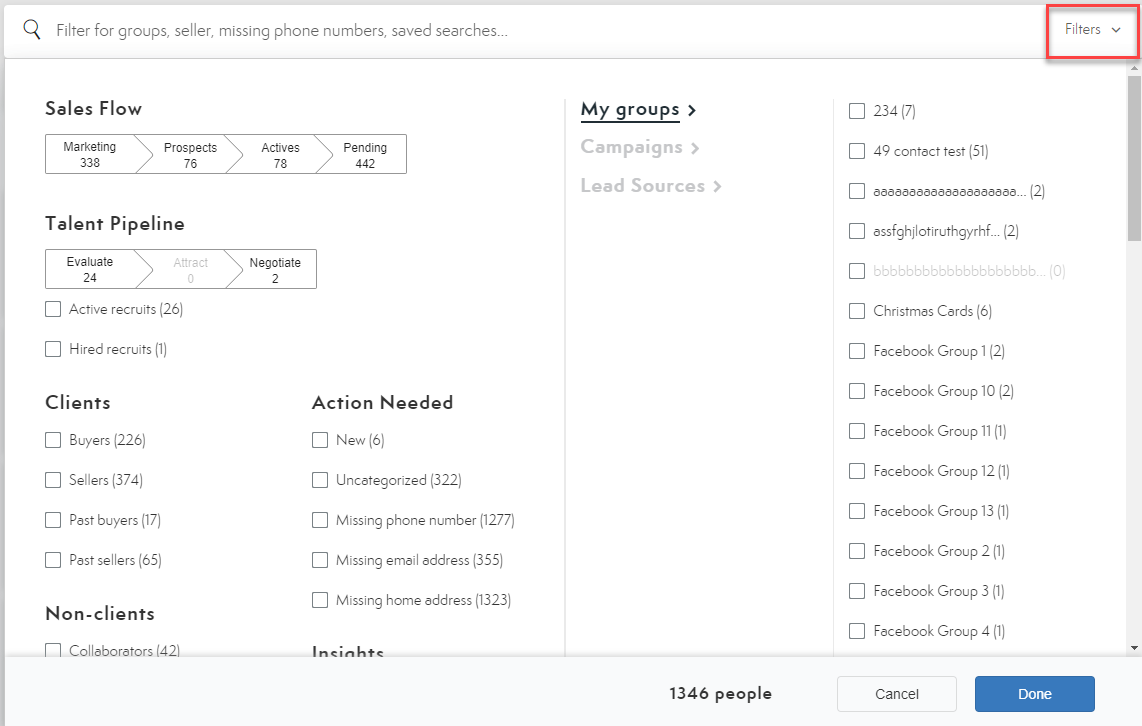 Sales Flow: Each Sales Flow zone is a milestone for an individual client's progress toward a successful transaction.
Marketing: Every person represents a prospective transaction. Marketing is populated with people you want to target with the goal of persuading them to work with you.
Prospect: Move people into the Prospect zone if they expressed interest in working with you, and their prospective transaction could develop within the next 12 months.
Active: When a person with a prospective transaction agrees to have you represent them, move them to Active.
Pending: People are moved to Pending when they have a pending transaction, having reached and accepted a mutual offer on a home, and are moving toward closing.
Categories: Filter by selecting one of the following system-generated sections.

Action Needed:

New: People newly added to your sphere
Uncategorized: People who have been added to Engage but have not been categorized yet
Missing Phone Number: People who do not currently have phone numbers on their profile
Missing Email Address: People who do not currently have an email address on their profile
Missing Home Address: People who do not currently have a home address on their profile

Clients:

Buyers: People classified as Buyers in the Sales Flow
Sellers: People classified as Sellers in the Sales Flow
Past Buyer: People who you have worked with as Buyers in the past
Past Seller: People who you have worked with as Sellers in the past

Non-Clients:

Collaborators: Vendors and collaborators you excluded from the Sales Flow
Personal: Personal connections you excluded from the Sales Flow
Subscriptions: People who receive Engage subscriptions like Neighborhood News. Go to Campaigns, and choose your subscriptions.
Groups: These are customized groups you can create and edit. To edit a group, choose Edit Groups from the command bar.

NOTE: Depending on your email client, there may be default groups already
Lead Sources: Places where you have leads automatically coming into your MoxiEngage account