The document management system (DMS) allows your brokerage to build a library of materials and resources for your business.
Accessing the DMS
Once you have signed into Moxi Works, select Documents (see below, indicated by the red arrow).

NOTE: You can search in the Search bar to find a specific file, which also brings you to the DMS.

This brings you to the homepage of the DMS (see below).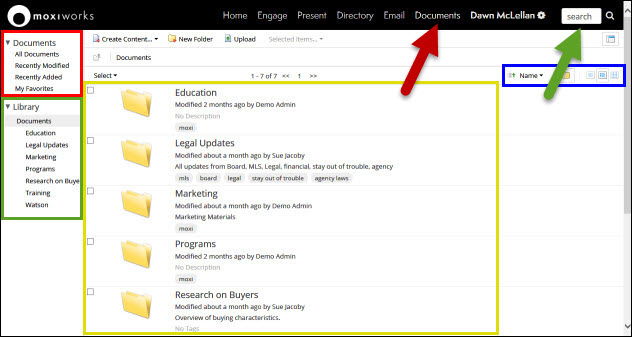 Navigating the DMS
The Documents dropdown menu (see above, circled in red) displays shortcuts to the following:

All Documents
Recently Modified
Recently Added
My Favorites

The Library (see above, circled in green) contains all company folders in alphabetical order.
Action buttons (see above, circled in purple) allow the following actions:

Create Content:  Build new content directly in the DMS.
Create New Folder: Add a new folder to hold your documents. The added folder appears in the Library.
Upload File: Upload existing content to the DMS.
 NOTE: If you do not see these options, you may not have the appropriate permissions. If you believe you should have these permissions, please contact Moxi Works Support.
Folders appear in the middle of the page (see above, circled in yellow).
Sort options (see above, circled in blue) allow you to change your view in the following ways:
Sort Descending
Different Names (Name, Popularity, Title, Description, etc.)
Hide Folders
Simple View
Detailed View
Gallery View