The Reports section gives you full visibility into your agents' production. You can select from User, Activity, or Monthly reports. Each provides a different snapshot of activity for your brokerage.
To access the Reports section, select Presentation Reports from the dropdown menu (see below).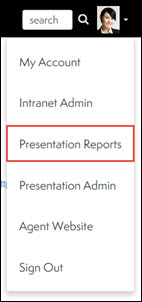 User Reports
Select User Report to view a snapshot of your top 25 producers.
Use the Actions button to export a CSV file of all active and invited agents, or export a CSV file of invited agents only to focus your adoption efforts.

Activity Reports
Select Activity Report to view a snapshot of production within the last three months, and Seller vs. Buyer production over time.
Use the Actions button to export a CSV file of all production activity within a specified time frame of your choice.


Monthly Reports
Select Monthly Report to get a comprehensive look at your designated areas for the previous and current months.
Use the View Full Report button to generate a PDF of the last full month of information.
View previous monthly reports by selecting the month (in current year) or previous year links.
Turn on/off Email Options. The monthly Company Report email provides a snapshot of the most current month. To receive the email this option should be turned on.
Change your level of view by Region and/or office.

NOTE: This view may differ between brokerages and your permission level.