Your people are your sphere and the core of your business.  MoxiEngage gives you a 360-degree view of all of your contacts: their personal and social profiles; current and past transactions; subscriptions; tasks and interactions; and more.
Included in this article
Profile Summary Panel
Transactions Summary
Contact Detail Summary
Profile Summary Panel
The Profile Summary Panel provides all the information regarding your person's Transactions, Subscriptions, and Groups.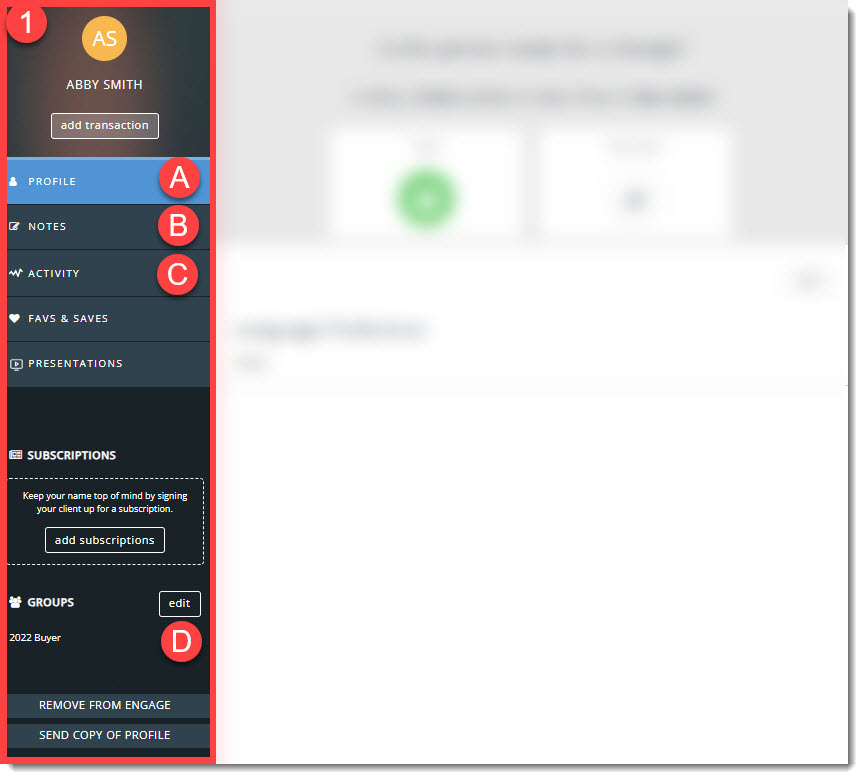 SUMMARY PANEL:
PROFILE: Click here to view a person's contact details.
TRANSACTIONS: The Sales Flow zone this person is in is listed here. Click to see their tasks.

Note:  People designated as either Personal or Collaborator won't have this section but, people with multiple transactions will show them all listed here.
SUBSCRIPTIONS: View and add subscriptions.
GROUPS: View groups to which this person belongs or add them to groups.
Transactions Summary
All the details regarding your person's Transaction can be found on this screen, including transaction Details, Tasks, and Notes.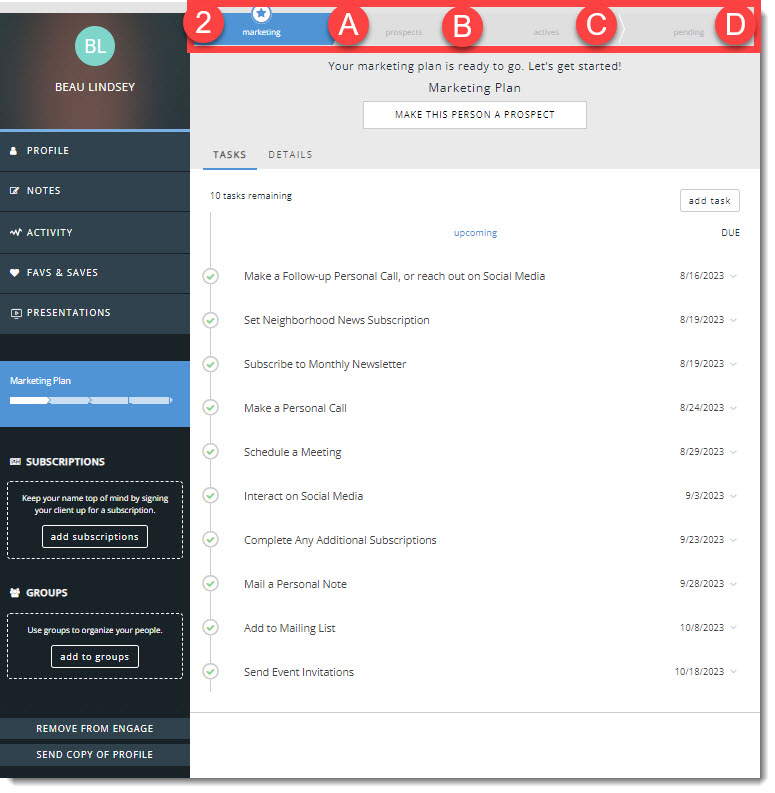 The Sales Flow is an all-in-one view of all transactions you are working on at any given time.  Each Sales Flow zone is a milestone for an individual client's progress toward a successful transaction. Each zone includes a task list to help you stay on top of the transaction and keep a steady pipeline for your business. These task lists can be customized by adding or removing any task while you're moving through the transaction.  They can also be updated for all future transactions within Engage Settings. 
The zones reflect how you work as an agent and are not tied to a listing on the MLS and the tasks will be specific to that segment of the lifecycle of a transaction.  Marketing will be where most of your contacts will be placed. Tasks include connecting for coffee, subscribing to a touchpoint, or posting to their social media. The Prospects zone is for those people that have raised their hand and indicated an interest in buying or selling.  The Actives zone is for those transactions you are actively working on (staging, finding the photographer, going on buyer tours, listing the property on the MLS, etc...). And the Pending zone is for transactions that have a mutually agreed upon buyer/seller contract and a known close date.
SALES FLOW: This will display where your person is currently in the Sales Flow Zone highlighted by the blue section. Select the appropriate zone for your client's transaction, if you need to move them to a new zone.
Contact Detail Summary
All of your person's Contact information can be found on this screen as well as Notes and History.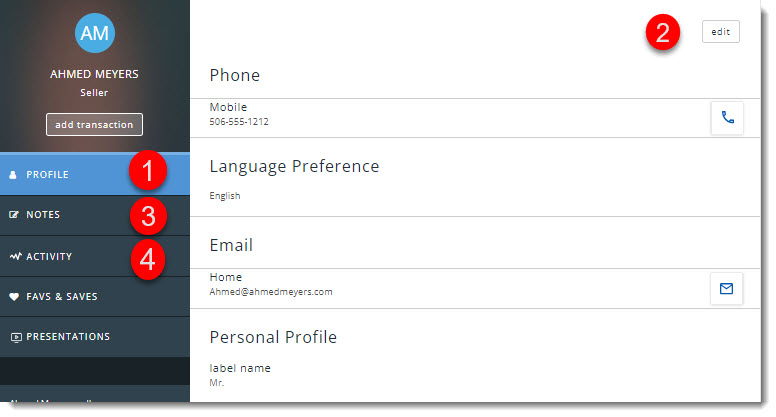 PROFILE DETAILS: All of your contact details will be found here.
EDIT: Add/remove and update contact details including social media links, special dates, and update your person's designation as Personal or Collaborator.
NOTES: View and create notes associated with this person.
ACTIVITY: View historical data, including Neighborhood News email updates and presentation associations, or enter a custom event with date and time stamps.