Moxi Works TM / Moxi Engage TM Person Profile Page Summary
From the Profile Page screen, agents can view personal profiles, Transactions, Subscriptions, and Group affiliations.
Contents
Profile Summary Panel
Transactions Summary
Contact Detail Summary
Profile Summary Panel
The Profile Summary Panel provides all the information regarding your person's Transactions, Subscriptions, and Groups.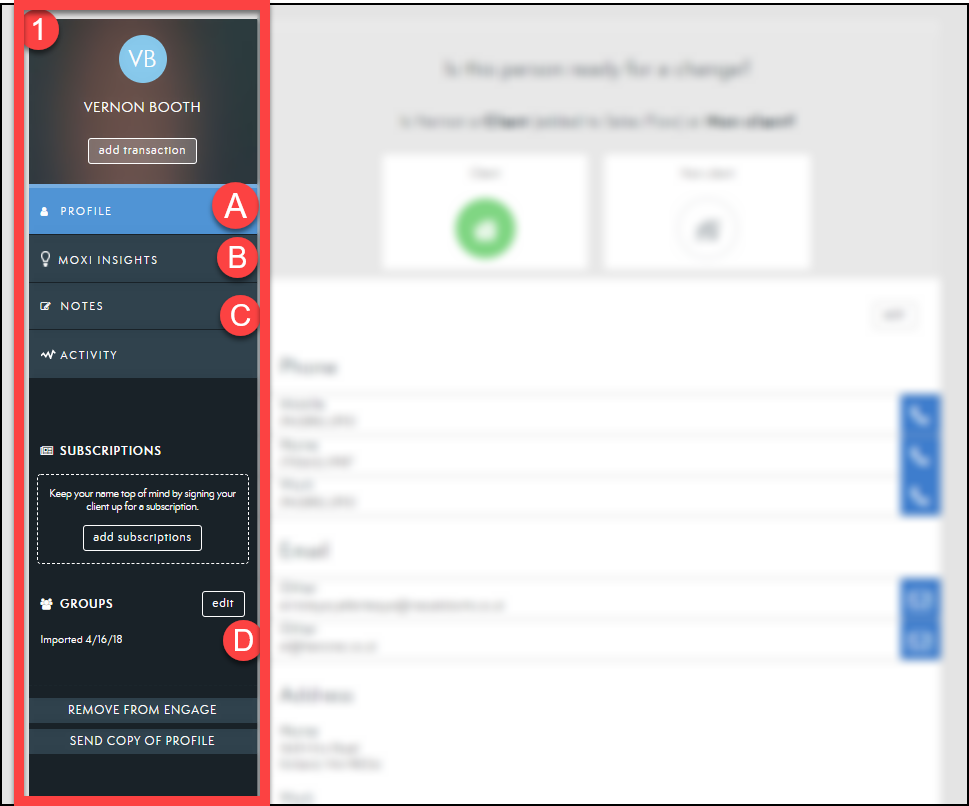 PROFILE SUMMARY PANEL:

PROFILE: Click here to view a person's contact details.
TRANSACTIONS: The Sales Flow zone this person is in is listed here. Click to see their tasks.

NOTE: People designated as Personal or Collaborator will not have this section and people with multiple transactions will have them all listed here.

SUBSCRIPTIONS: View and add subscriptions.
GROUPS: View groups to which this person belongs, or add them to groups.
Transactions Summary
All the details regarding your person's Transaction can be found on this screen, including transaction Details, Tasks, and Notes.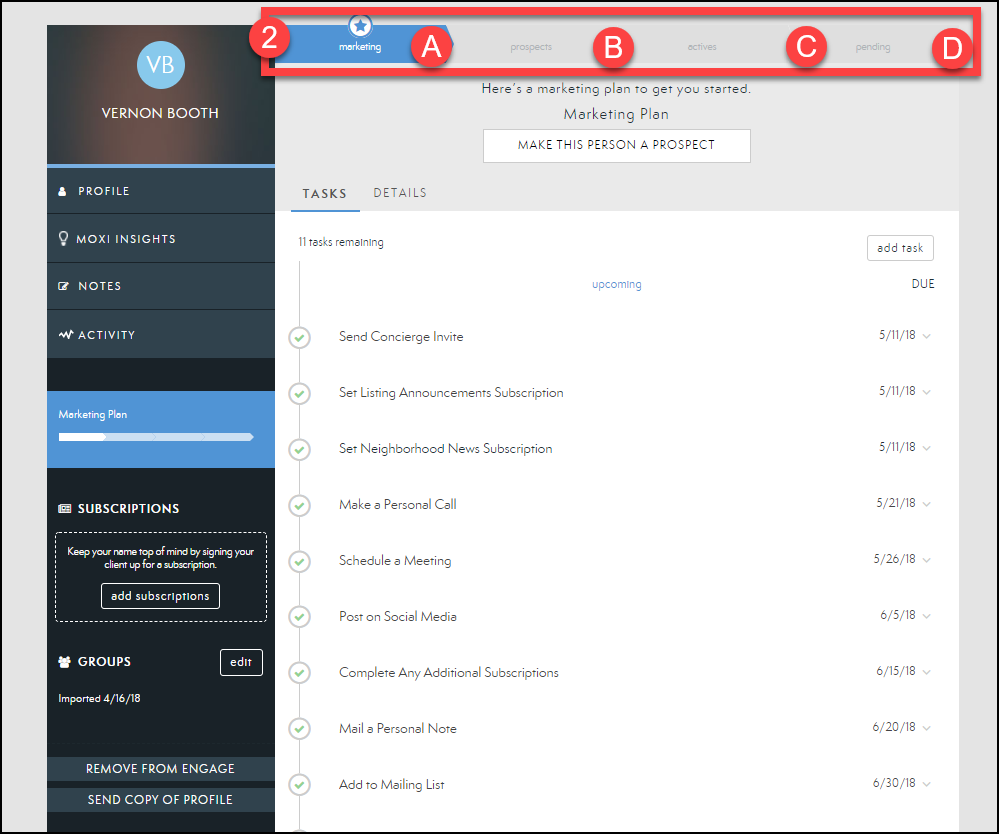 SALES FLOW: This will display where you person is currently in the Sales Flow Zone highlighted by the blue section. Select the zone appropriate for your client's transaction, if you need to move them to a new zone

MARKETING: Every person represents a prospective transaction. The Marketing zone is populated with people you want to target with the goal of persuading them to work with you.
PROSPECT: Move people into this zone if they expressed interest in working with you, and their prospective transaction could develop within the next 12 months.
ACTIVE: When a person with a prospective transaction agrees to have you represent them, move them to Active.
PENDING: Move people to Pending when they have a pending transaction, having reached and accepted a mutual offer on a home, and are moving toward closing.

NEW PEOPLE: When looking at a brand new person in your sphere, use this section to determine if they are someone ready to move through the Sales Flow, need to stay in the Marketing zone, or need to be designated as Personal or Collaborator.

A prospective buyer or seller: Click here to move your person into the Prospect Zone and add Transaction details.
Not ready to buy or sell: Click this button to keep your person in the Marketing Zone and begin working through the Marketing Tasks.
Not a client: Use this button to designate as Personal or Collaborator and move them out of the Sales Flow.

MARKETING PLAN: Work through the first zone of the Sales Flow.

TASKS: This tab shows all tasks associated with the selected person within the current zone.
NOTES: Click here to view and create notes associated with this transaction.
CHECK MARK: Click on the check mark to complete the task.
TASK DESCRIPTION: Click on the task name to review the task's description and additional options.
Contact Detail Summary
All of your person's Contact information can be found on this screen as well as Notes and History.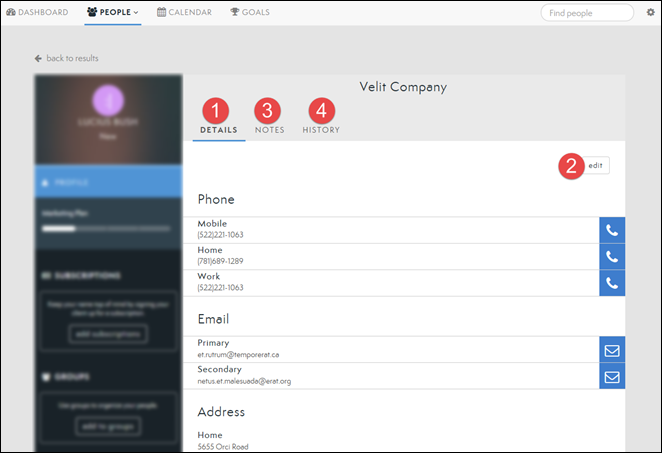 DETAILS: All of your contact details will be found here.
EDIT: Add/remove and update contact details including social media links, special dates, and update your persons designation as Personal or Collaborator.
NOTES: View and create notes associated with this person.
HISTORY: View historical data, including Neighborhood News email updates and presentation associations, or enter a custom event with date and time stamps.