Receiving a lead is only one possible first step of forming a client relationship. Make sure Moxi Engage records your leads from Zillow using the new feature Zillow Tech Connect! Now you can begin the real work of forming a relationship with someone in your sphere of influence!
From the Moxi Engage dashboard, select the settings wheel in the top right corner (see below).

Select Engage Settings.


Select Setup/Manage.

Copy your Zillow Leads Key and then select Connect to my CRM. This link will bring you to Zillow.


Enter your Zillow account sign-in information and select Sign in.


Select Add Partner.


While on Add a Tech Connect Partner, expand the Select a Partner drop down, scroll down, and select Moxi Works.


Paste your Zillow Leads Key into the field and click Save.


Head back to Moxi Engage Preferences and select Finish on the Leads Setup for Zillow screen.


Your set up process is done! You can now view the status of your lead providers as well as additional leads options in Moxi Engage, such as turning on auto-response emails to your new leads (see below in red) and turning on an auto-subscription to Neighborhood News (see below in green)!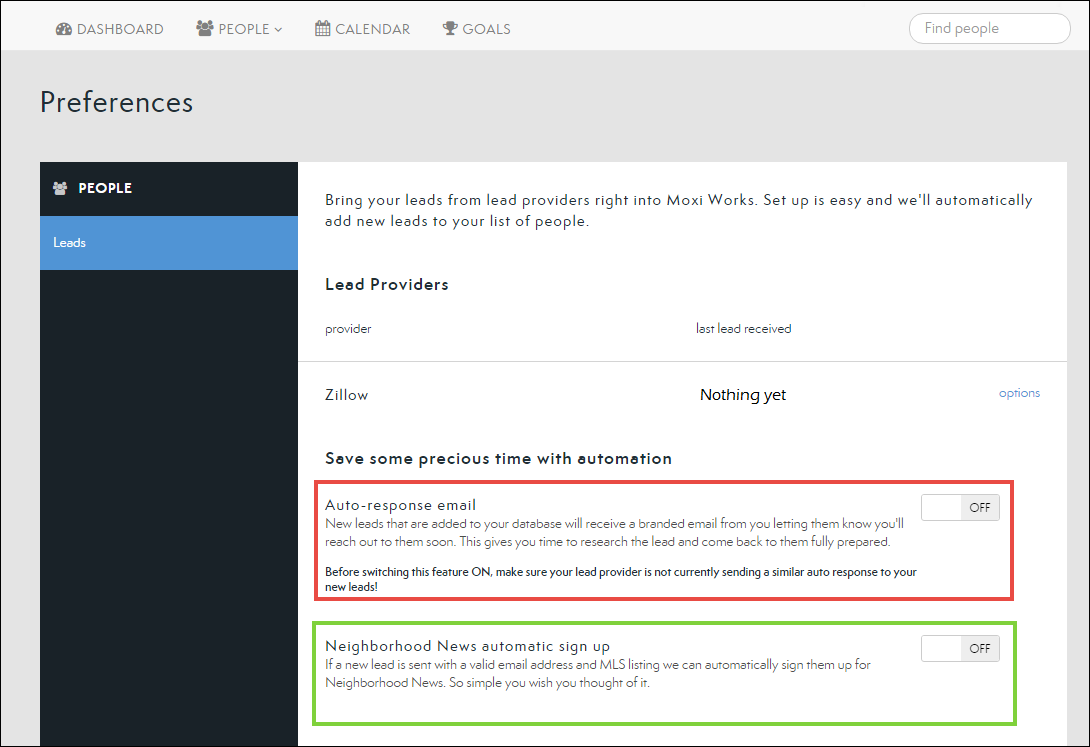 New leads from Zillow are now identified in the People section of Moxi Engage, and the person's search from Zillow is recorded in the Moxi Engage History section. Start working with them to get their transaction through the Sales Flow!