Each page of the Brokerage Hub will feature categorized topics, such as MoxiEngage, the directory, or other topics which may vary depending on your brokerage. Pages can lead to other areas of the Hub or connect with an external link. Managing pages is important to maintaining an organized, robust Hub.


How to get to the Brokerage Hub Admin:
Click on your username for the dropdown menu to appear (see below).
Click on Hub Admin (see below).

NOTE: If you do not see this option, you do not have Content Admin access. Please Contact Tech Support to request access to the Intranet Admin.

This will bring you to the Pages screen (see below).
Hub Admin Overview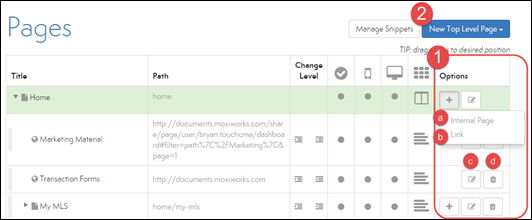 Options: Add a Child Page to your existing Brokerage Hub pages.

Internal Page: Click on the Plus icon (+) and select Internal Page to create a new Internal Hub page. This will create a child page that will appear under your top-level page and add the title to the end of the location path.

EXAMPLE: In the image above, My MLS is a child page of Home.

Link: Click on the Plus icon (+) and select Link to create a new button which will connect to another page already created. This can be either an Internal link to a location within the Hub or to an external webpage.

EXAMPLE: In the image above, Marketing Material and Transaction Forms are links that can be accessed from the Home page.

Edit: Click on the pencil icon to open the page or link editor.
Delete: The trashcan icon lets you remove your page or link.

NOTE: Deleting a page is a permanent action and cannot be undone.

New Top Level Page: Create either an Internal Page or a Link that will remain hidden. A Top Level Page is useful when creating an ad campaign or other section of your Hub without creating a long path name or web address. Because Top Level pages are not visible by default, you will need to provide the link to the intended audience or create a link on your Hub by following step 1b above.
Reminder: To make any changes to the pages or links accessed in the Header of your Hub, please contact your Account Manager.