Brands and brokerages can now provide a consistent and on-brand informational experience for all website users. They can also ensure all legal and usage terms and disclosures are provided across all websites in their company.
Quick Reference Guide
If you are a Brand/Brokerage admin, use these quick reference steps to start customizing company or brand-wide footers right away.
Select Footer from the Appearance menu
Select Manage Footer screen
Select Create
Edit the footer options
When finished, select Done, then choose Publish
Select the Brand/Brokerage Footer screen
Define which footer you created should be the default
Determine if child sites can customize their footers
Go to the Site Footer screen and select if the brand/brokerage site will use the default or its own, separate, custom footer
Follow the steps below to see the step-by-step guide for how to create a company or brand-wide custom footer!
Create a custom footer
Manage Footers
Brand Footers
Brokerage Footers
Site Footers
Create a custom footer to provide to any child site
Select Footer from the Appearance menu



Site Footer: This tab shows you which footer is being used for your website

NOTE: If Default is selected, your site will display either the MoxiWorks default footer or the Company or Brand-designated default footer..

Brand/Brokerage Footer: This tab will display which custom footer has been designated as the brand or brokerage default. It will also display which footers have been applied to company child websites and if customization is allowed.

Manage Footers: This tab is where the brand or brokerage can create multiple footers depending on what is needed. You can also quickly see which footers are in use.
Select Manage Footer and then select the Create New Footer button

Give your footer a name and select the Create button

Add, edit, or remove the footer content to create your custom footer


Hover over any of the existing text or images to highlight the settings for that block. Access settings for the block by selecting the wrench icon.


Add more content by selecting the Plus icon.

TIP: Select Widgets from the drop-down menu to access the MoxiWorks-specific content like Featured Properties, Property Search, Neighborhood News sign-up, and more.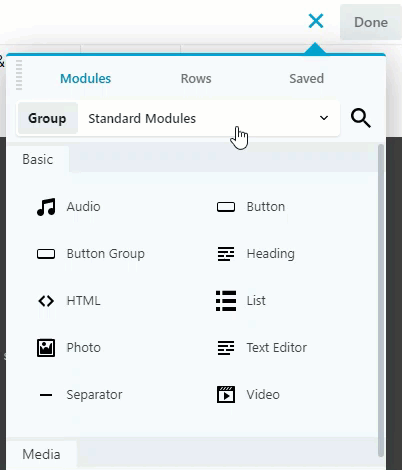 When done adding and editing your content, select Done


Then select Publish, Save Draft, or Discard


To get back to the Manage Footer screen Select Appearance from the top menu, then Footer from the side navigation, and Manage Footers (as in steps 1 & 2 of this section)

Next, select the Brand/Brokerage Footer tab
Managing Footers

TIP: As you create new footers, you'll be able to see: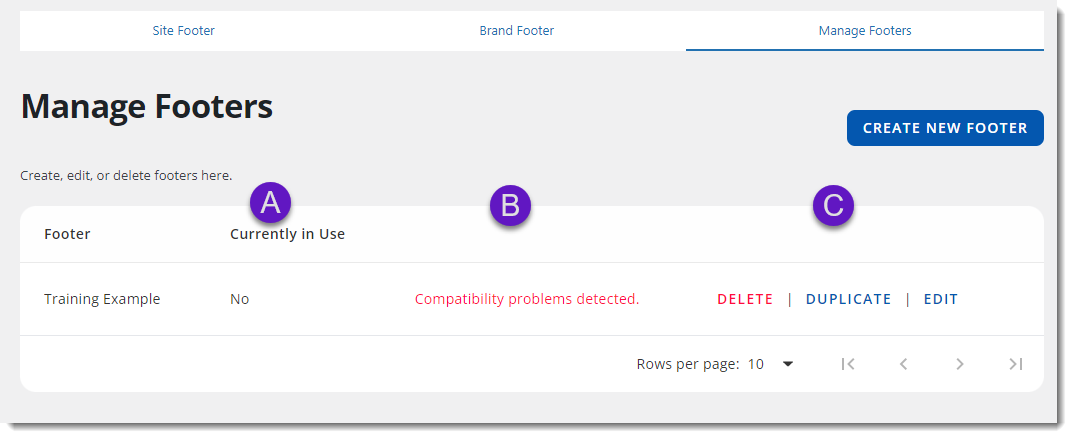 all the footers currently in use,

footers with compatibility issues at-a-glance,

delete, duplicate, and edit any footer
Brand Footer
If you are the admin for a Brand website type, you'll see the Brand Footer tab. This screen is your control center.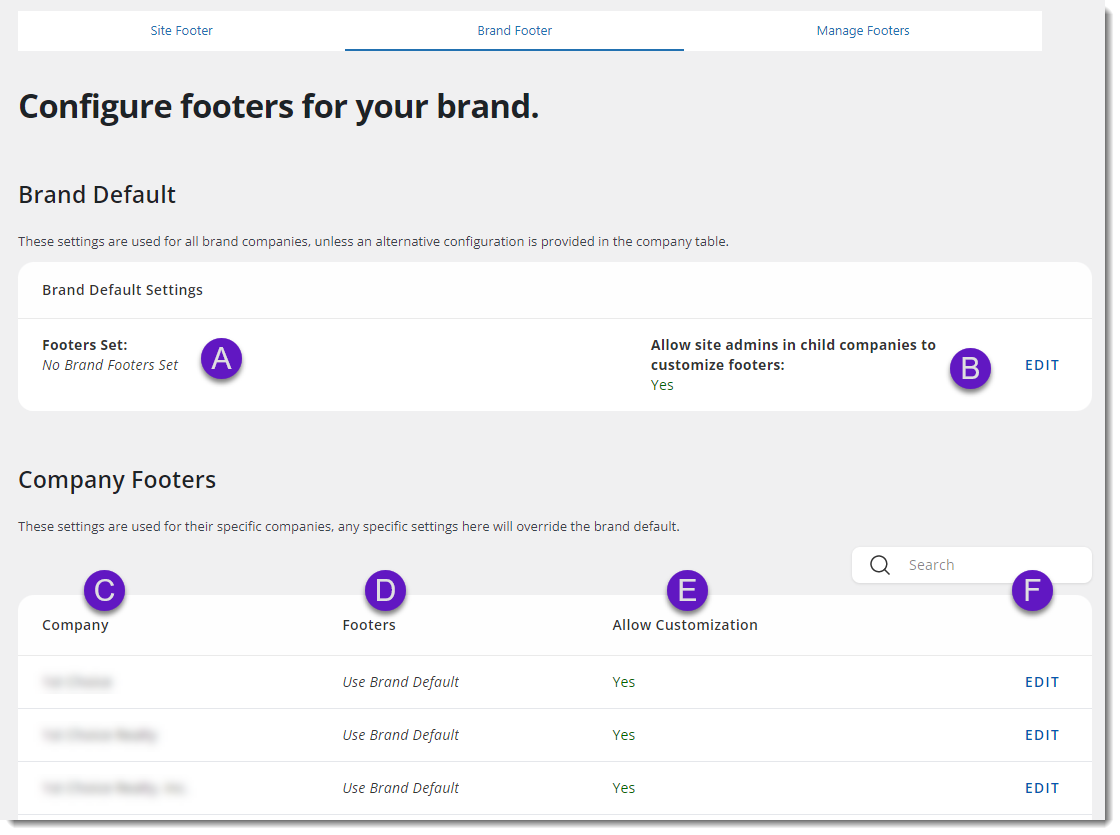 Define the default footer for the brand from the set of footers you created under Manage Footers.

Allow site admins in child companies to customize footers:
Yes: If Brokerage and Agent sites in child companies use the default footer setting, the brand default will display. However, they can select customize and set their own custom footer options.
No: Only the Brand default will display on all child company websites and there will be no option for child site admins to customize the footer.

Company: See the list of child companies.

Footers: You can create multiple footers to accommodate different languages or regional disclaimers. The Footers column will let you see at-a-glance, which Footer has been designated for a specific child company.

Allow Customization: Quickly see which child companies can adjust their footers and which will display only the Brand default.

Edit: Adjust footer options per child company.
Select Edit under Brand Default Settings


NOTE: If your brand supports multiple languages, you'll see those regions listed on the settings panel and can designate a default footer for each region.
Use the drop-down menu to select your footer for the default, then select Save



Brokerage Footer
If you are the admin for a Brokerage website type, you'll see the Brokerage Footer tab. This screen is your control center.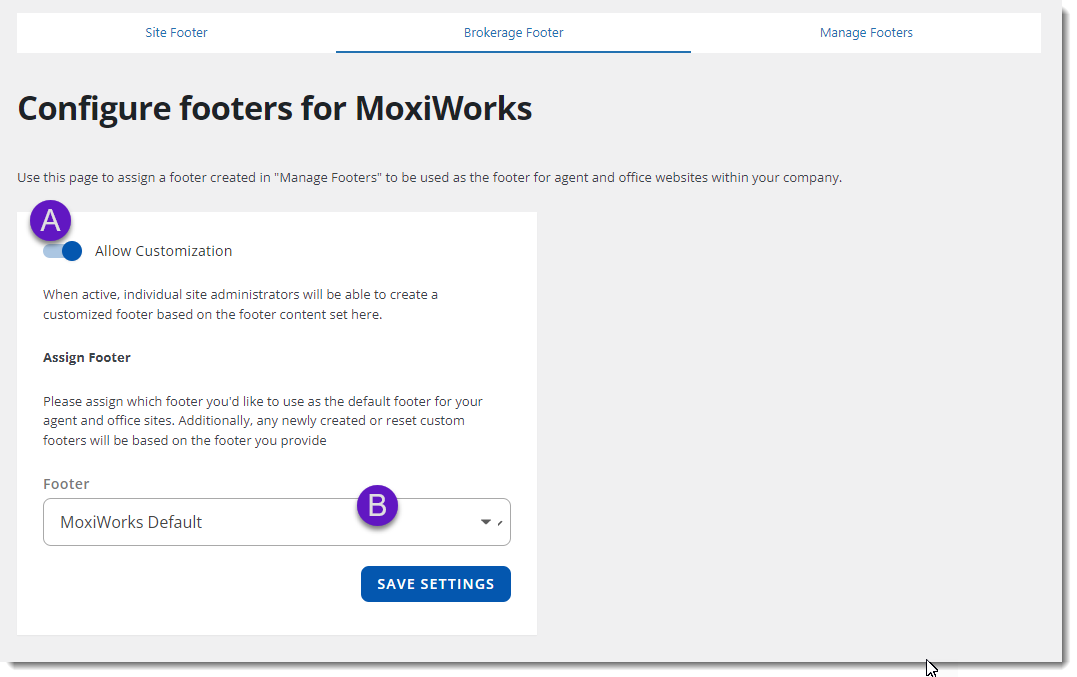 Allow Customization: With this toggle active, agent and office sites in your company will be able to customize their footers. With this toggle inactive, agent and office sites in your company will display the default footer selected on this screen.

Assign Footer: In this drop-down menu, you can select any footer you have created on the Manage Footers screen to be the designated default footer.
Site Footer
As the admin for either the brand or brokerage website, you may want to display the default footer you have created on the Manage Footers screen, or you may want to create a separate, custom footer unique to the brand/brokerage site. You can do this on the Site Footer screen.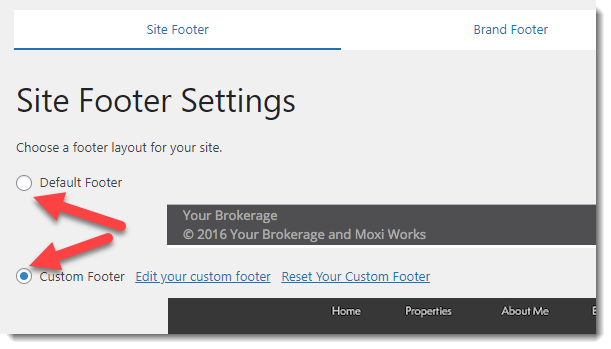 Select the Default Footer button to take advantage of any footer already designated as default on the Brand or Brokerage footer screen.
or, Select the Custom Footer button to create a separate custom footer for your website using the same editing steps found in Customizing the Footer.